MEET OUR ATHLETES & AMBASSADORS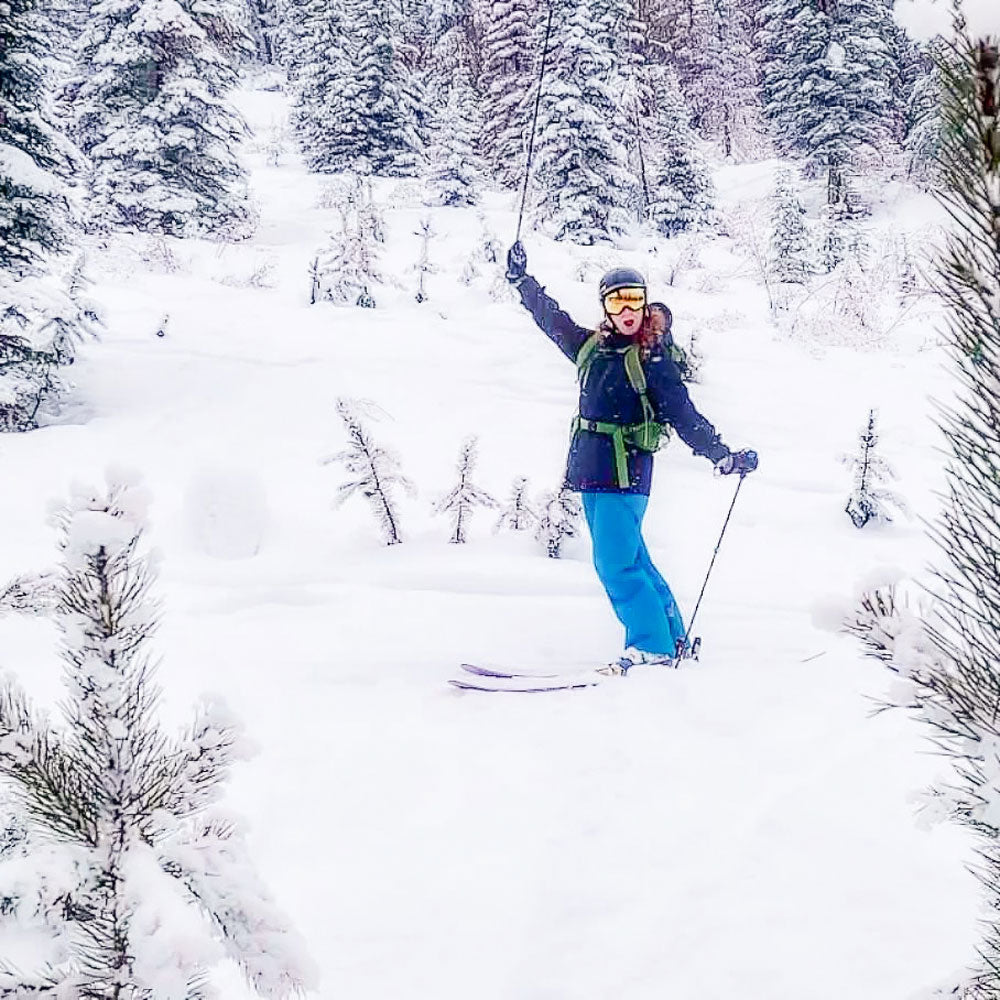 Gyulia Borbely
she/her/elle/la
Home mountain: Kimberley Alpine Resort located on the native lands of k̓ukamaʔnam, Ktunaxa ɁamakɁis peoples — Land of eagle district, traditional territory of the Ktunaxa Nation
Gyulia in 5 words or less: Loud, curly-haired, passionate, caring weirdo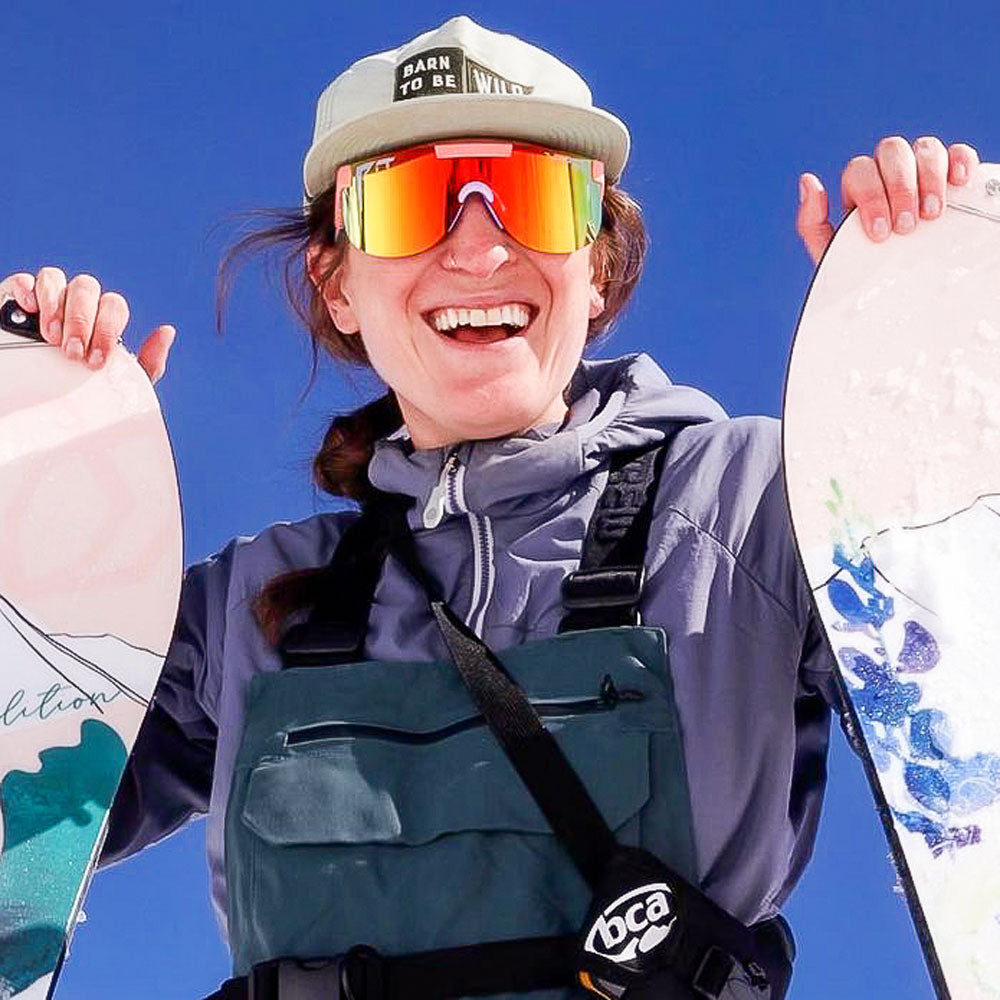 Andrea Slusarski
she/her
Home mountain: Arapahoe Basin located on the native lands of Tséstho'e (Cheyenne) and Núu-agha-tʉvʉ-pʉ̱ (Ute) peoples
Andrea in 5 words or less: Creative froth monster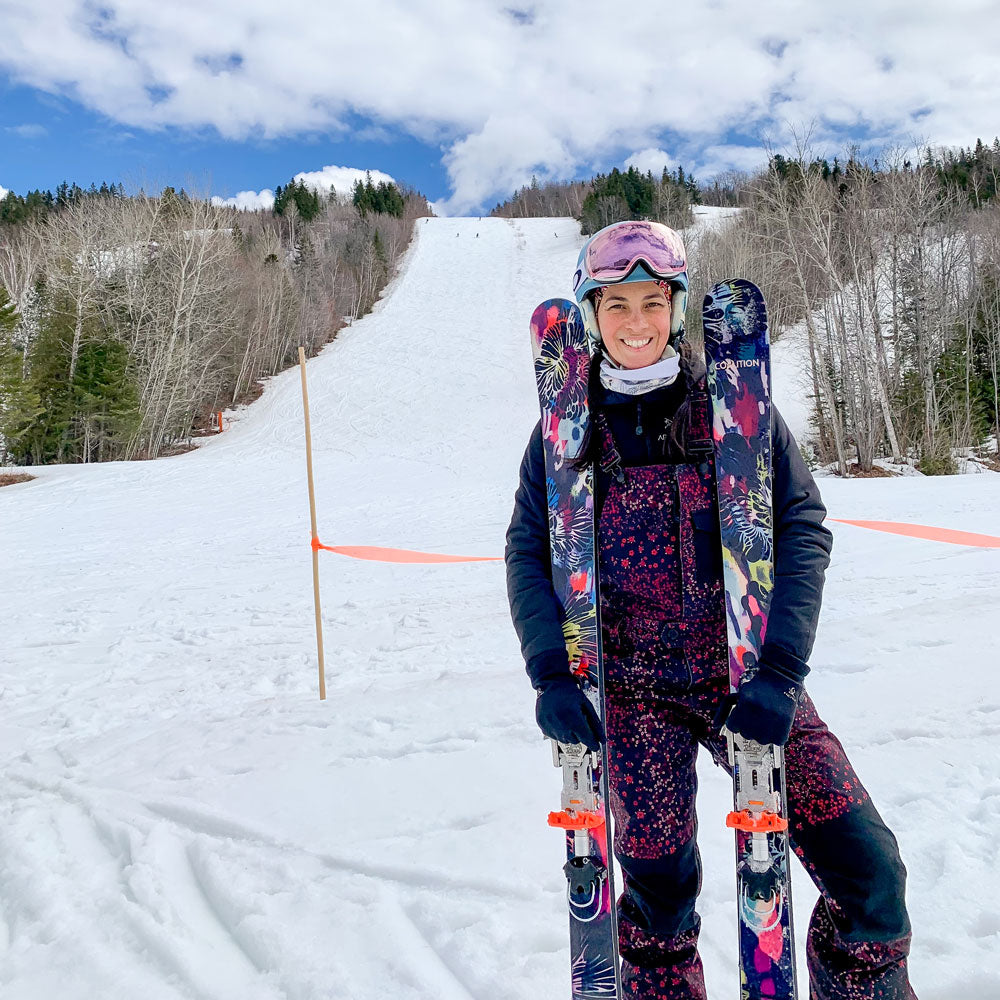 Heidi Hoang
she/her/elle/la
Home mountain: Mont Rigaud located on the native lands of Mohawk, Wendake, and Haudenosaunee peoples
Heidi in 5 words or less: Intense, detailed, goofy, mom engineer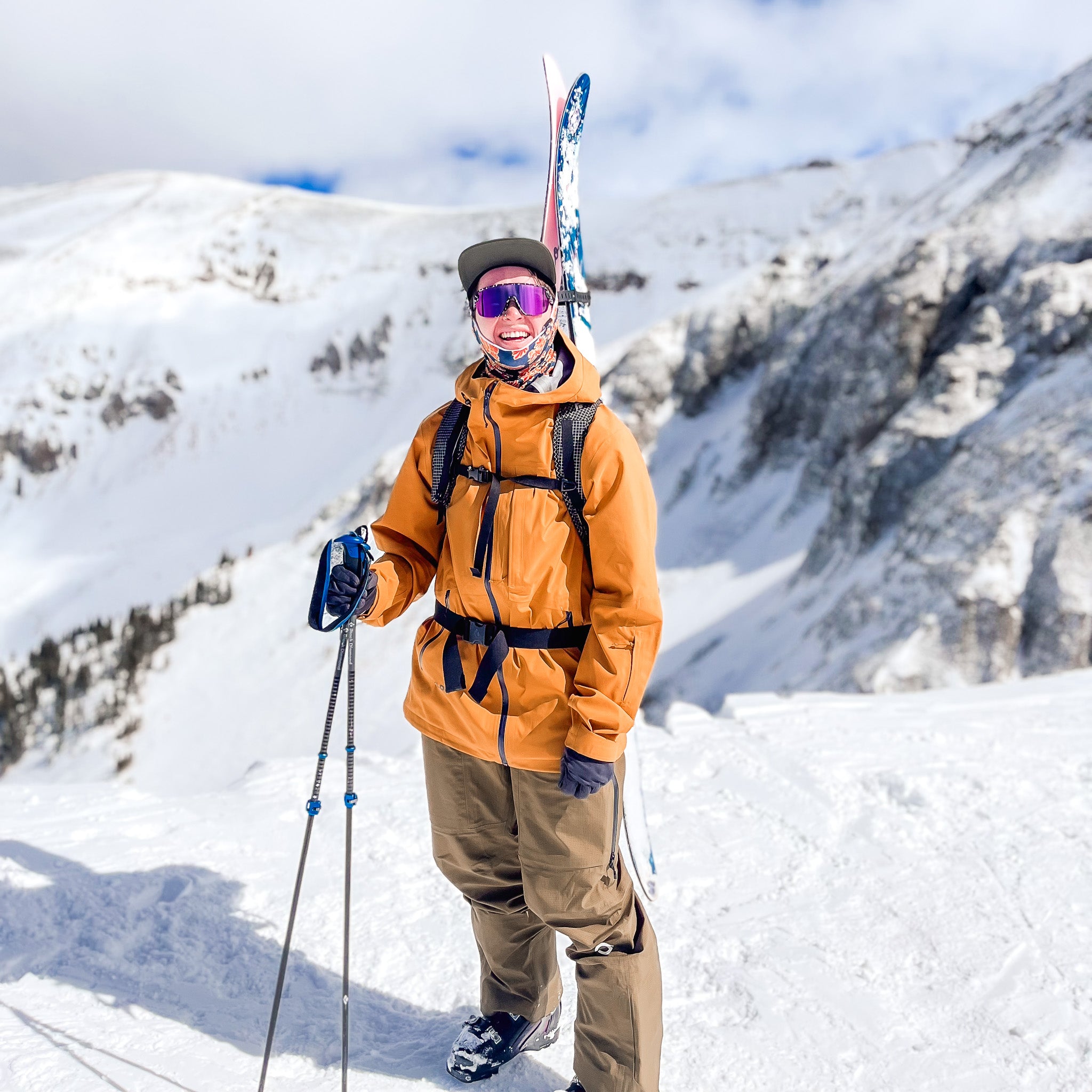 Ceci Gichner
she/her
Home mountain: Telluride Ski Resort located on the native lands of the Núu-agha-tʉvʉ-pʉ̱ (Ute) people
Ceci in 5 words or less: Hungry, goofy, outgoing, friendly Croc-wearer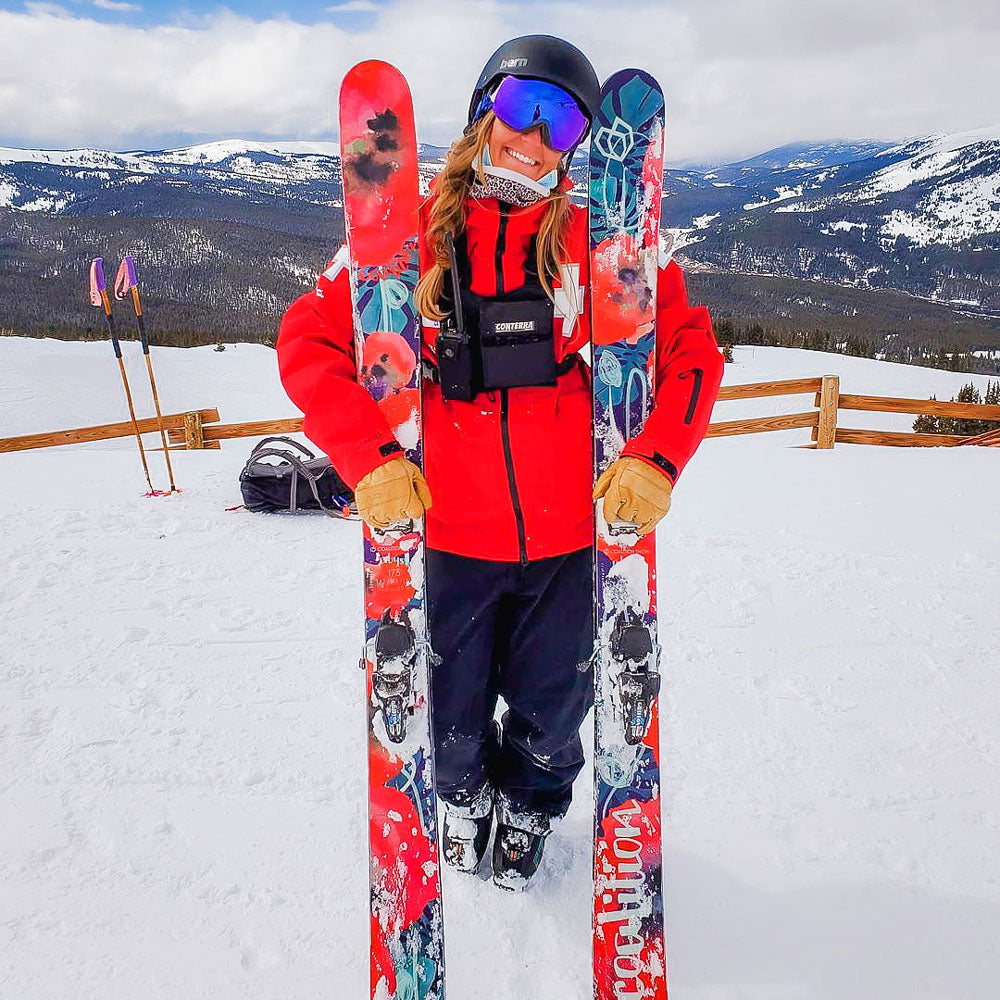 Lisa Harper
she/her
Home mountain: Arapahoe Basin located on the native lands of Tséstho'e (Cheyenne) and Núu-agha-tʉvʉ-pʉ̱ (Ute) peoples
Lisa in 5 words or less: Eats glitter for breakfast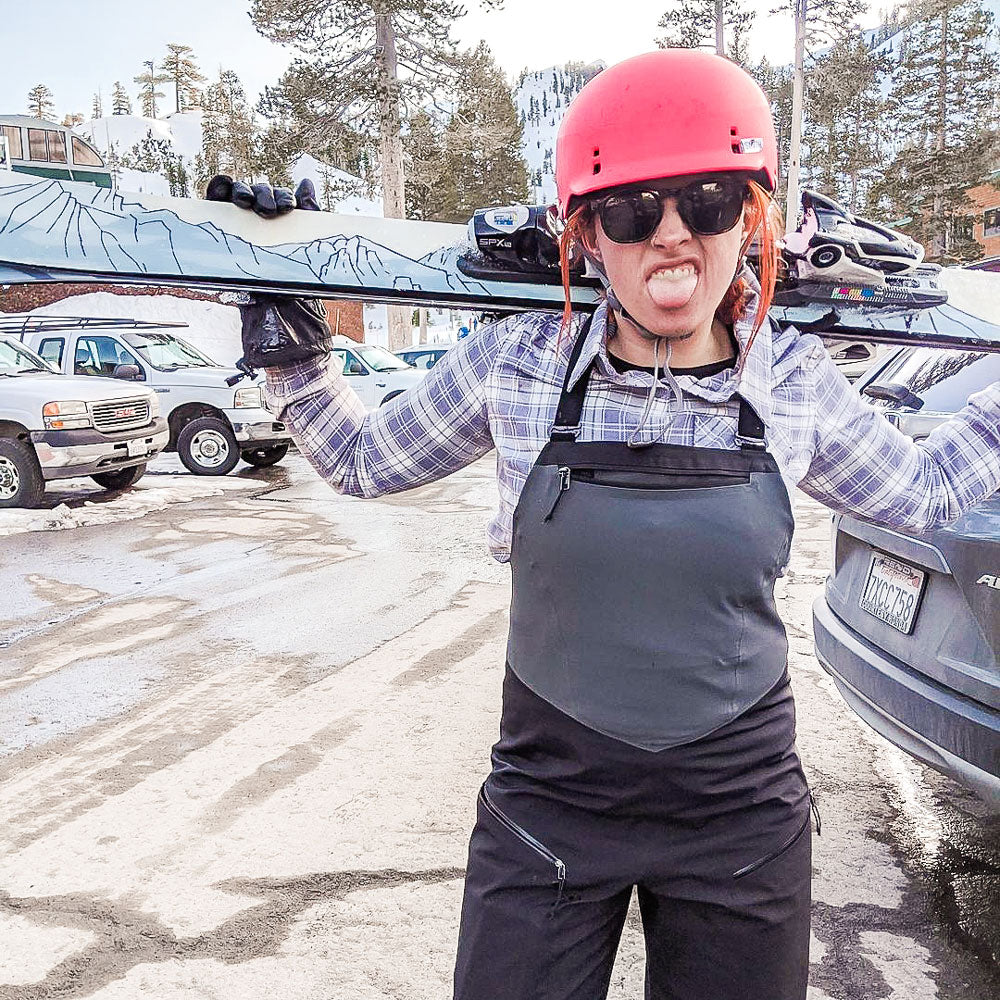 Hannah Spendlove
she/her
Home mountain: Northstar California Resort located on the native lands of the Wašišiw Ɂítdeʔ (Washoe) people
Hannah in 5 words or less: Obsessed skier, cyclist, and pet mom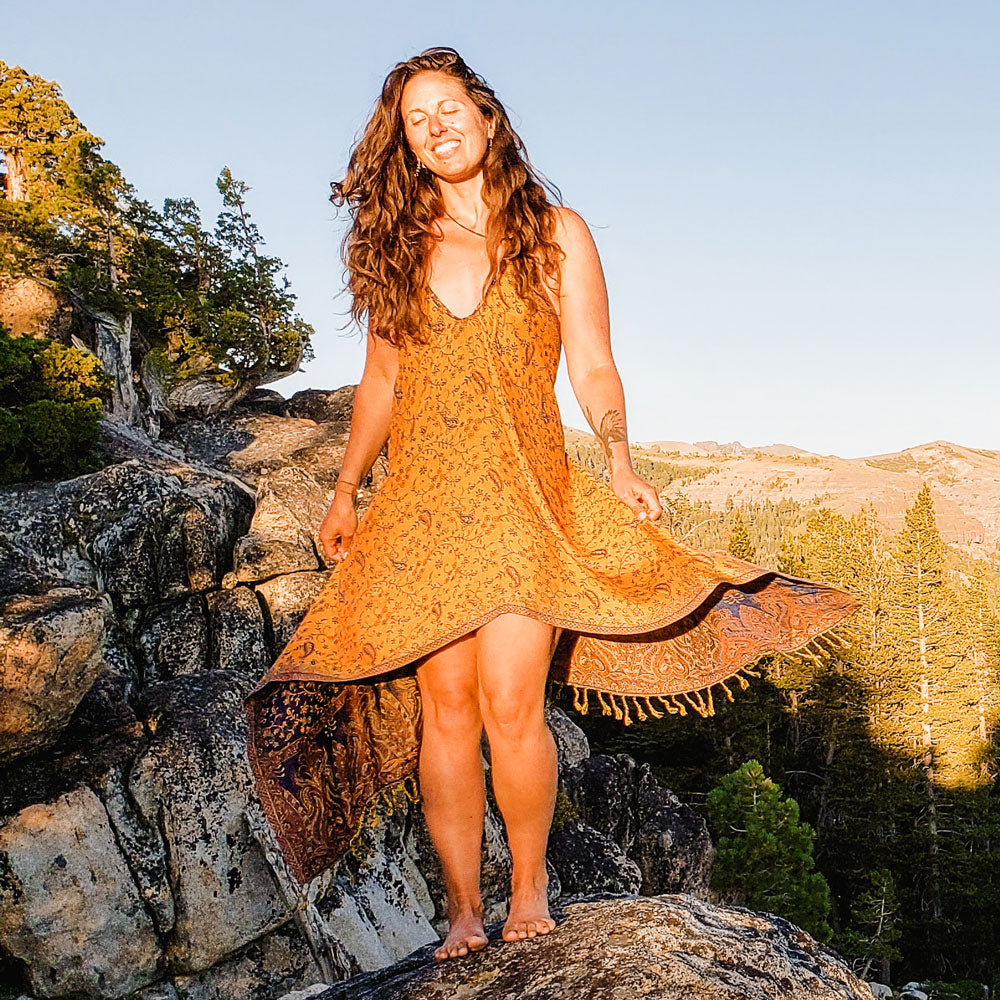 Natasha Buffo
she/her
Home mountain: Kirkwood Mountain Resort located on the native lands of the Wašišiw Ɂítdeʔ (Washoe) people
Natasha in 5 words or less: Storyteller, explorer, friend, silly, nerd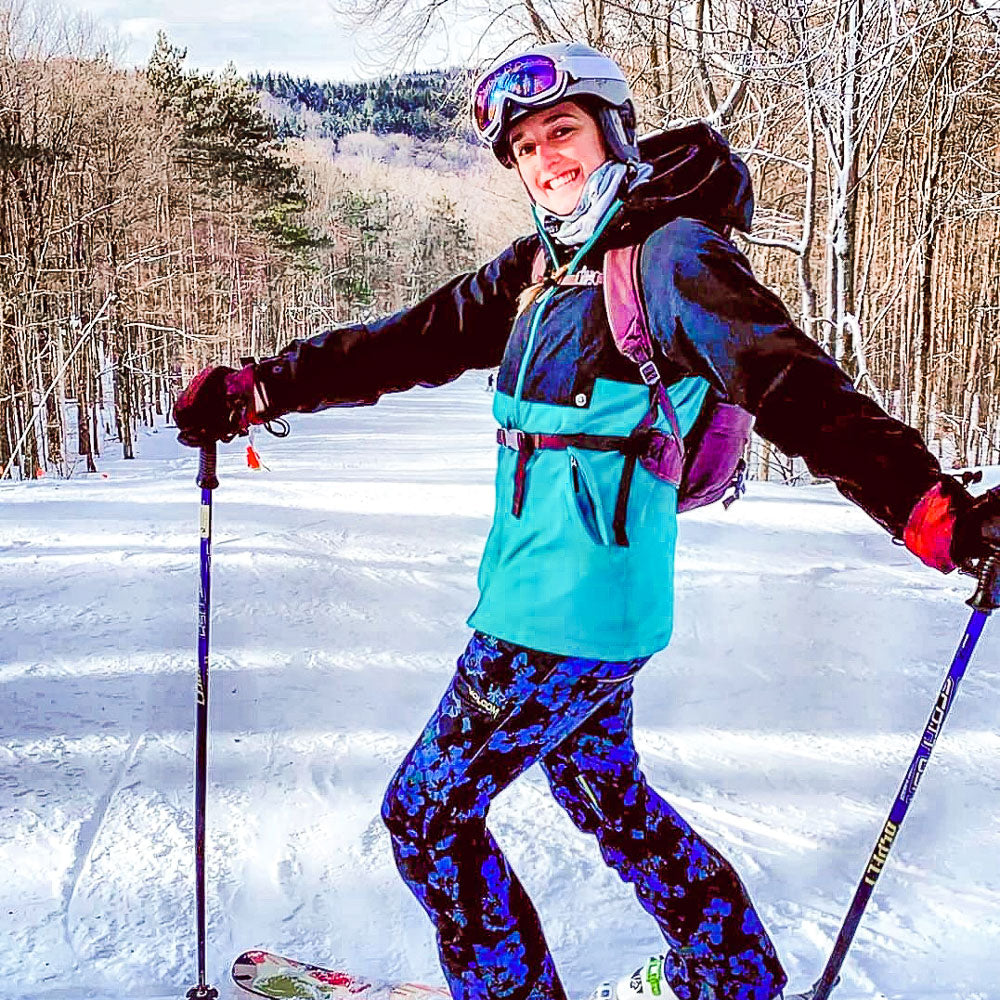 Katelynn Wagner
she/her
Home mountain: Greek Peak Mountain Resort located on the native lands of Onundagaonoga, Ho-de-no-sau-nee-ga, and Tuscarora peoples
Katelynn in 5 words or less: Blue Ridge-born Adirondack lover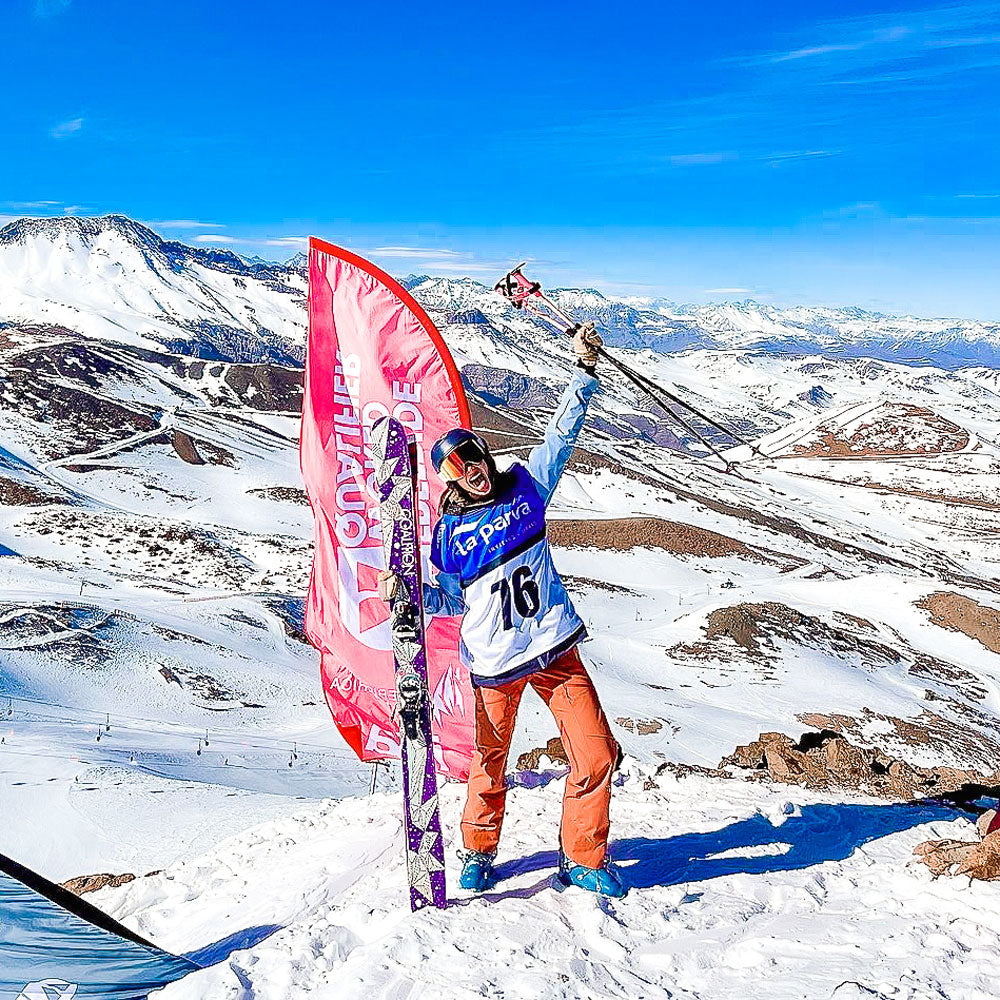 Rachel Shannon
she/her
Home mountain: Mammoth Mountain located on the native lands of the Numu (northern paiute) people
Rachel in 5 words or less: Athletic, cold-handed, weird freeride skier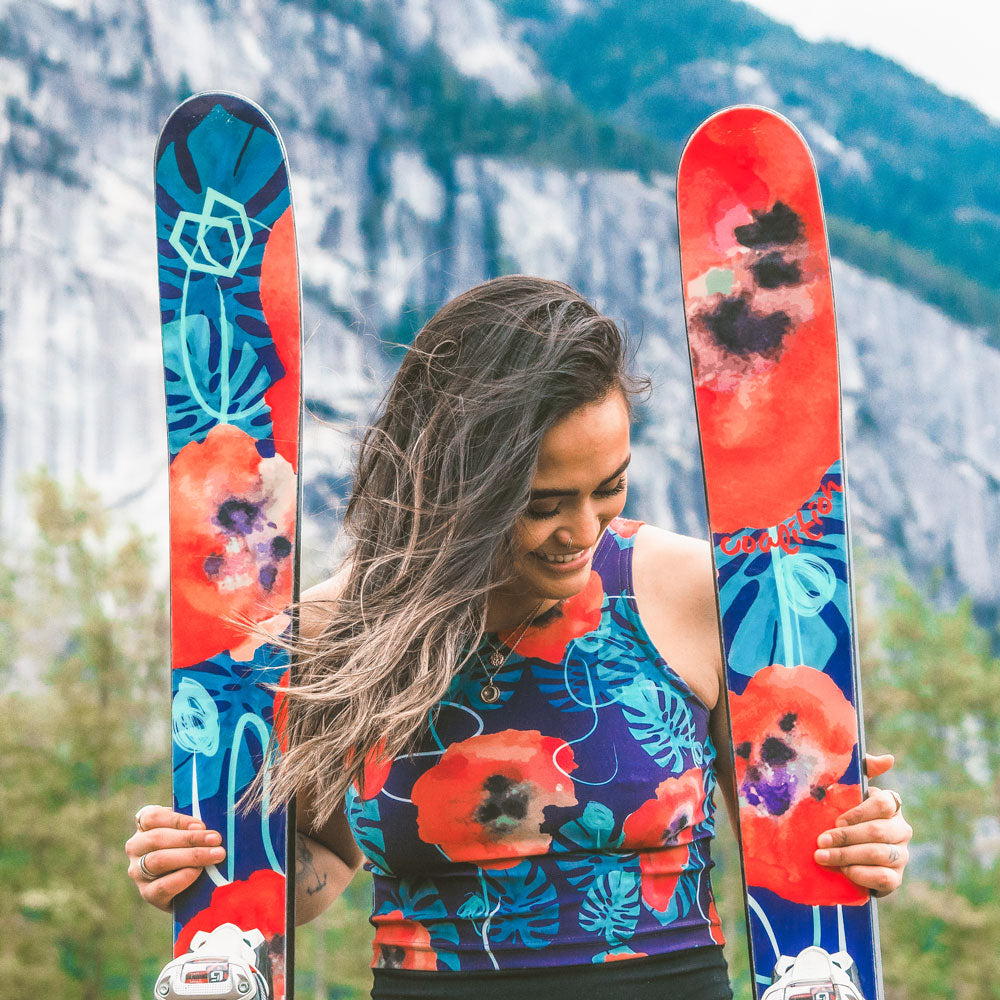 Genny Mae Rowed
she/her
Home mountain: Whistler Blackcomb located on the native lands of Lil'wat, Skwxwú7mesh-ulh Temíx̱w (Squamish), and St̓át̓imc Tmicw (St'at'imc) peoples
Genny Mae in 5 words or less: Independent, weird, loud, colorful overfeeler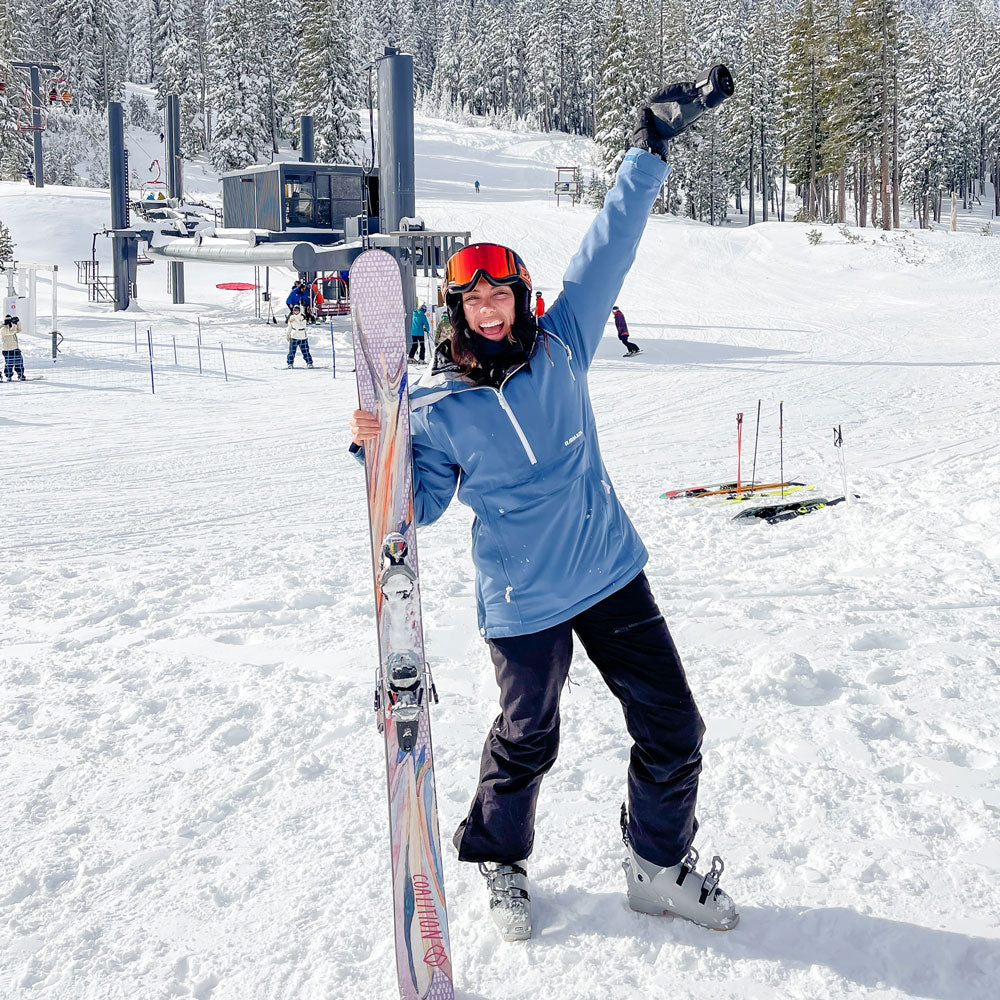 Cayley Allan
she/her
Home mountain: Copper Mountain located on the native lands of Tséstho'e (Cheyenne), hinono'eino' biito'owu' (Arapaho), and Núu-agha-tʉvʉ-pʉ̱ (Ute) peoples
Cayley in 5 words or less: Creative, adventurous, independent, loyal, passionate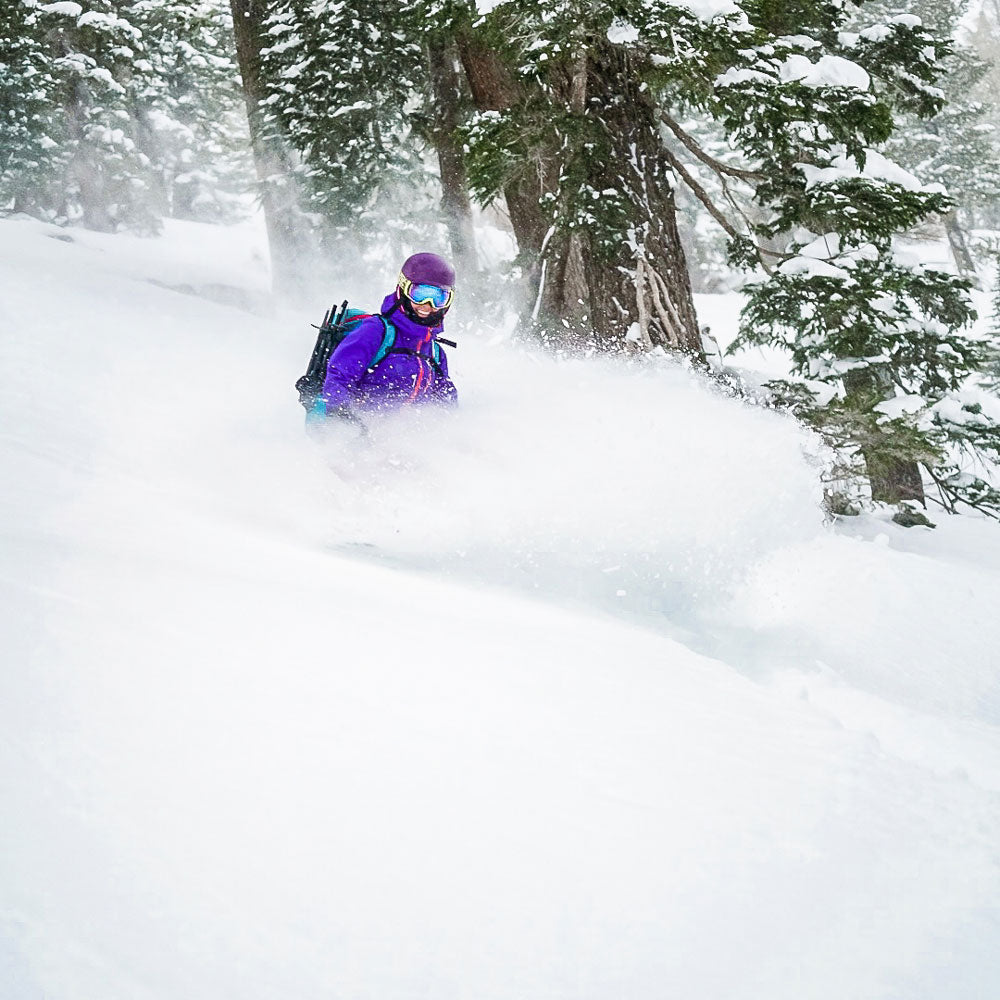 Coral Rose Taylor
she/her
Home mountain: June Mountain and Mammoth Mountain located on the native lands Numu (northern Paiute) and Western Mono/Monache peoples
Coral in 5 words or less: Tree-hugging, fun-loving nerd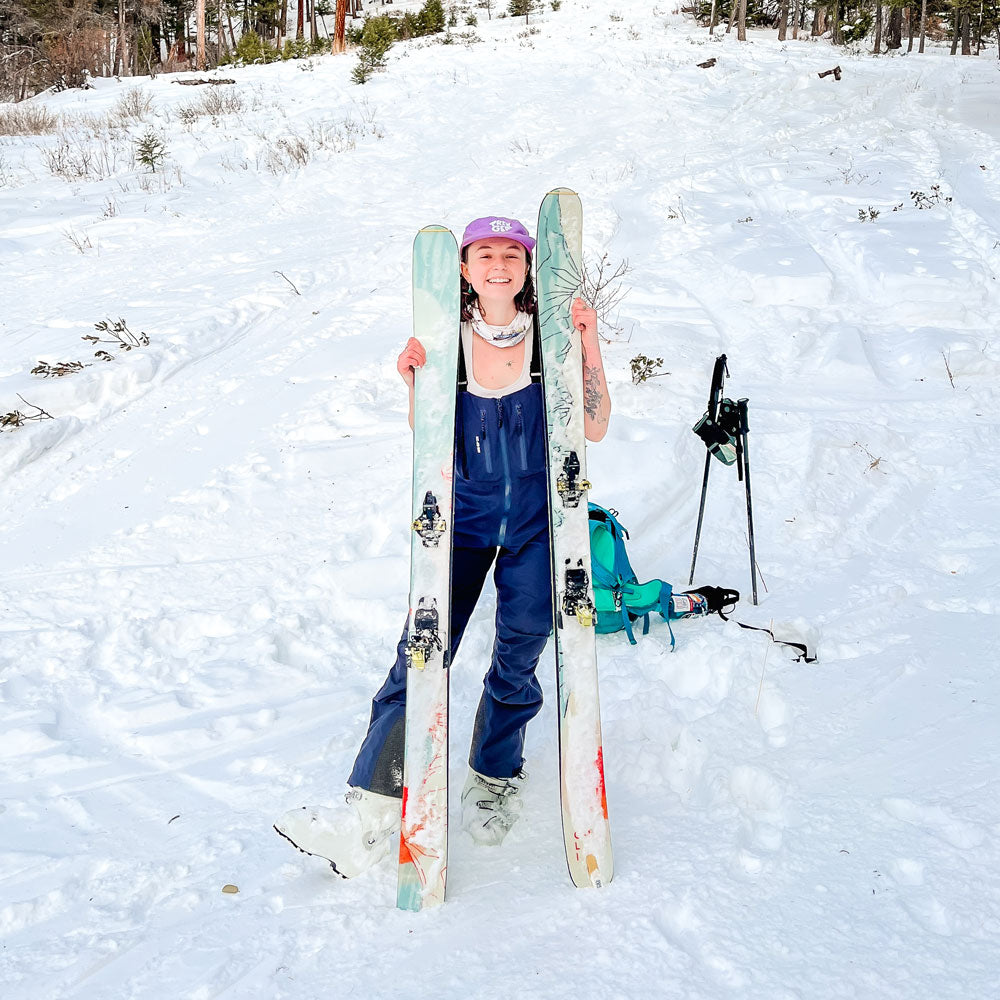 Halle Smith
she/her/they/them
Home mountain: Lost Trail Ski Area located on the native lands of Salish and Kootenai peoples; and Mt. Hood Meadows located on the native lands of Molala, Kalapuyan, Chinookan Clackamas, Shinookan Wasco, and Northern Paiute peoples
Halle in 5 words or less: Backcountry hound and MSW student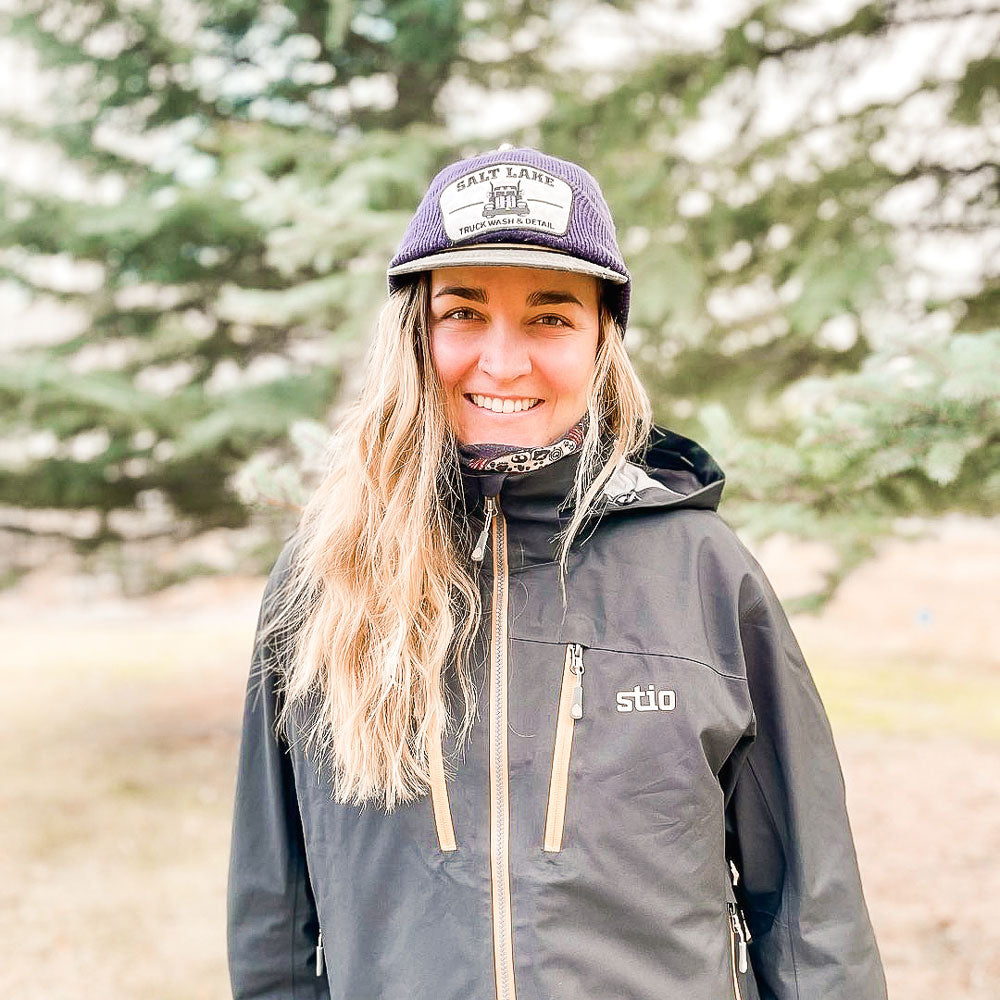 Madi McKinstry
she/her
Home mountain: Bridger Bowl located on the native lands of Shoshone-Blackfoot, Cheyenne, Apsáalooke, and Salish peoples
Madi in 5 words or less: Energetic, loud, self-entertained, weird telemark skier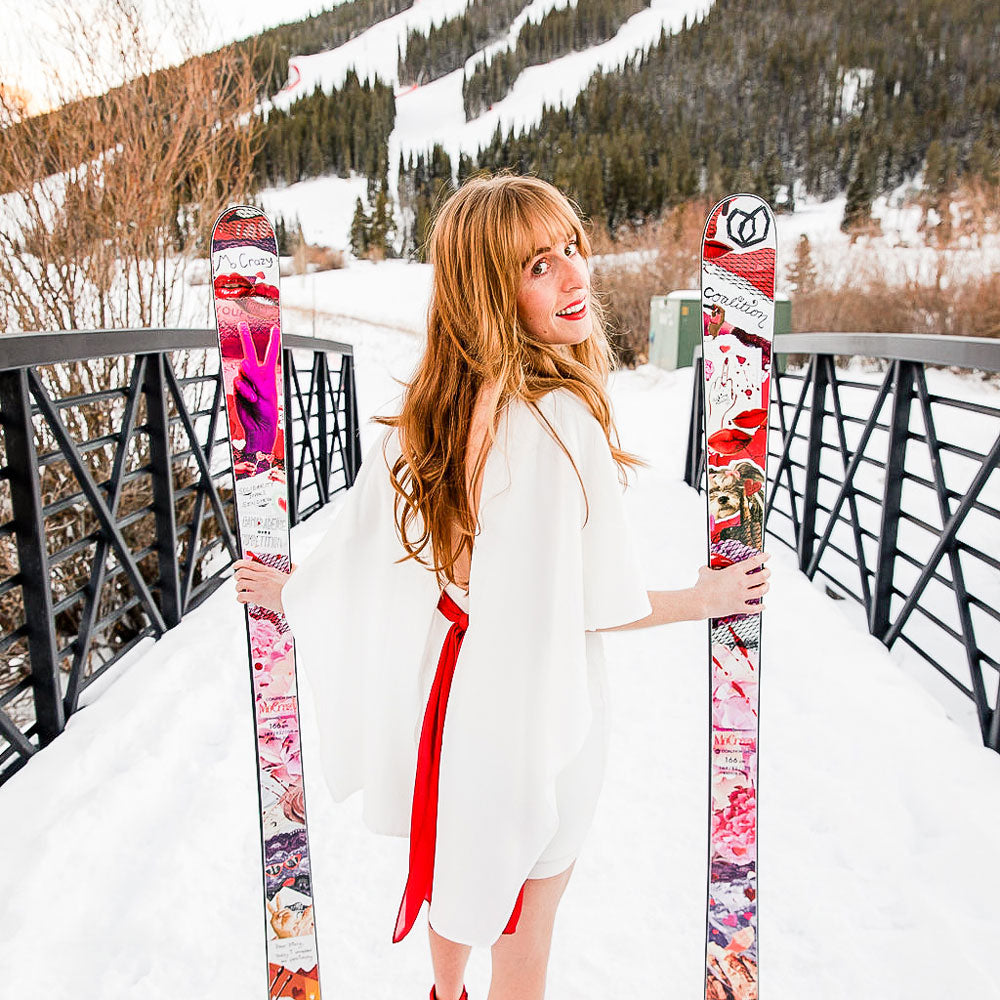 Jeanee Crane-Mauzy
she/her
Home mountain: Park City Mountain located on the native lands of Newe Sogobia (Eastern Shoshone) and Núu-agha-tʉvʉ-pʉ̱ (Ute) peoples
Jeanee in 5 words or less: Professional skier, climate activist, foster parent
Jillian Raymond
she/her
Home mountain: Palisades Tahoe located on the native lands of the Wašišiw Ɂítdeʔ (Washoe) people
Jillian in 5 words or less: Yogi, teacher, mama, lover, fighter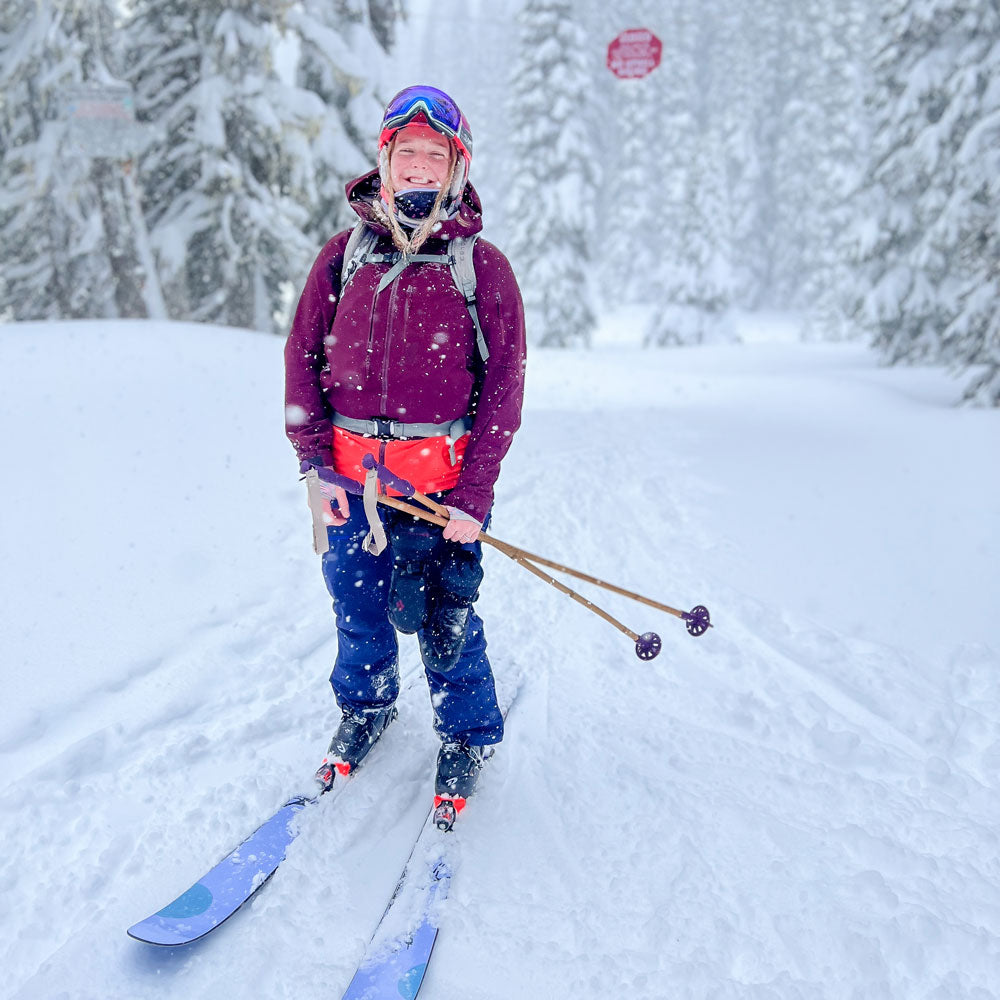 Jess Horan
she/her
Home mountain: Crystal Mountain located on the native lands of Coast Salish and Snoqualmie peoples
Jess in 5 words or less: Type 2 enneagram/fun-haver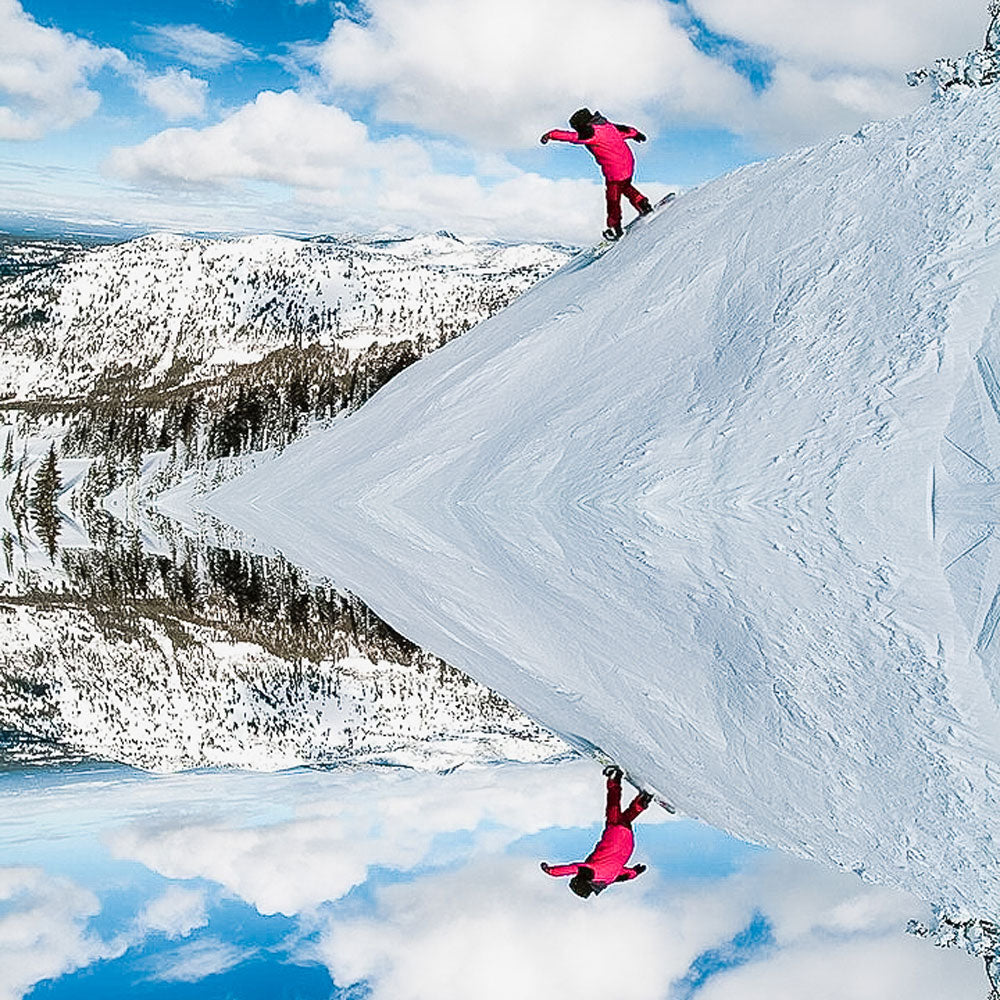 Liz Toft
she/her
Home mountain: Grand Targhee located on the native lands of the Shoshone Bannock people; and The Fridge located on the native lands of the Lenape people
Liz in 5 words or less: Rollin' around in the underground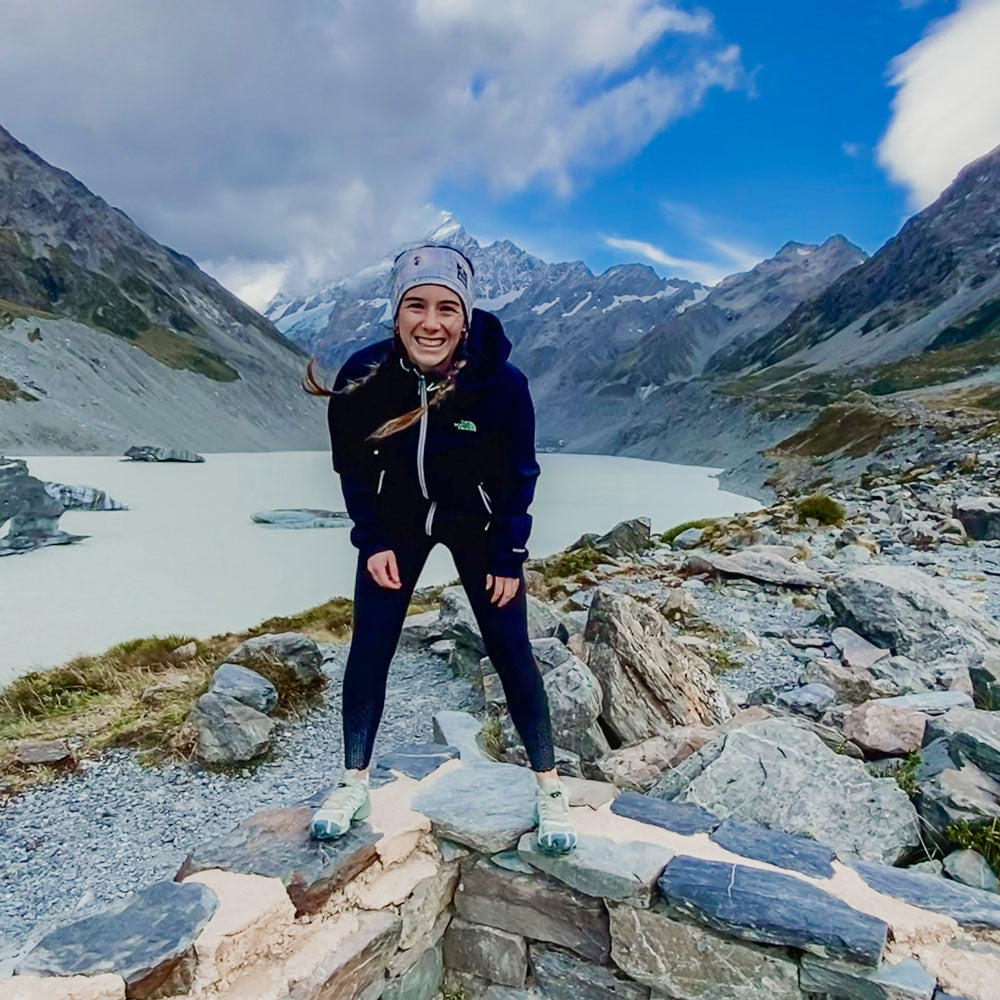 Jaime Gilchrist
she/her
Home mountain: Ōpuke/Mount Hutt located on the native lands of the Ngai Tahu people; and Grouse Mountain located on the native lands of Cayuse, Umatilla, Walla Walla, Skwxwú7mesh-ulh Temíx̱w (Squamish), S'ólh Téméxw (Stó:lō), səl̓ilwətaɁɬ təməxʷ (Tsleil-Waututh), šxʷməθkʷəy̓əmaɁɬ təməxʷ (Musqueam) peoples
Jaime in 5 words or less: Small, strong, determined, empathic, stubborn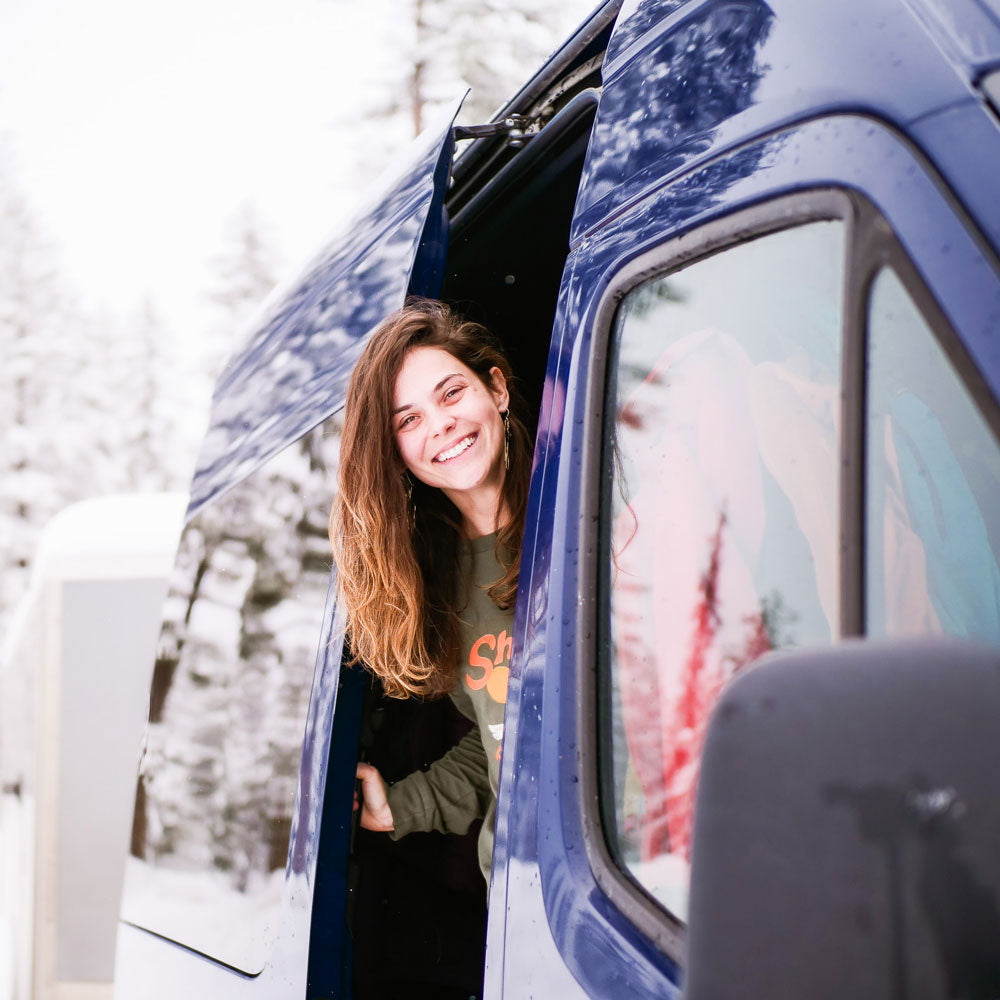 Betsey Peryea
she/her
Home mountain: The backcountry ones in SW Montana located on the native lands of Cayuse, Umatilla, and Walla Walla, Crow, Salish, and Cheyenne peoples
Betsey in 5 words or less: Dorky, disabled, determined Costco chicken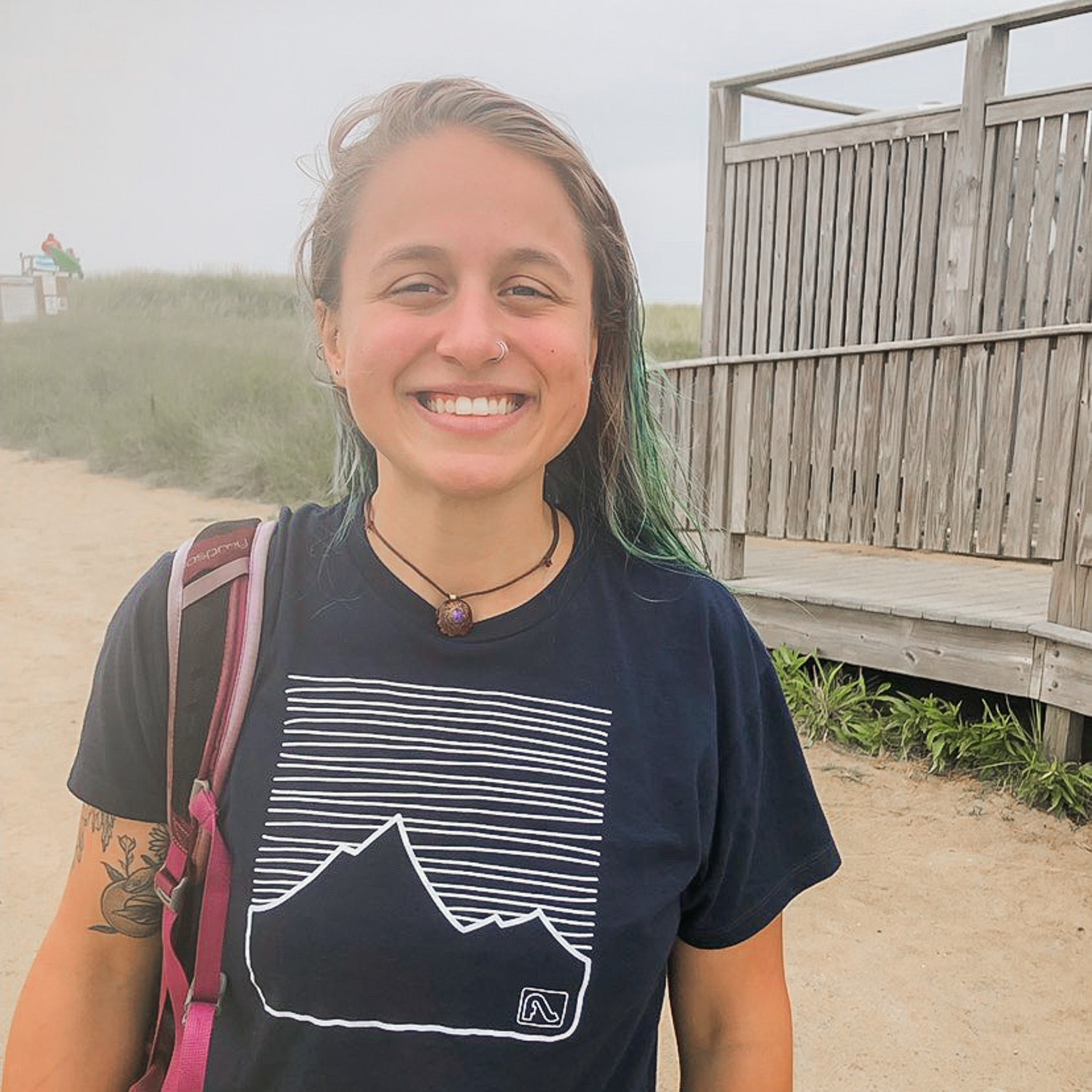 Kayla Riker
she/her
Home mountain: Winter Park Resort located on the native lands of Arapaho, Cheyenne, and Ute peoples
Kayla in 5 words or less: Energetic, positive, goofy, passionate outdoors-lover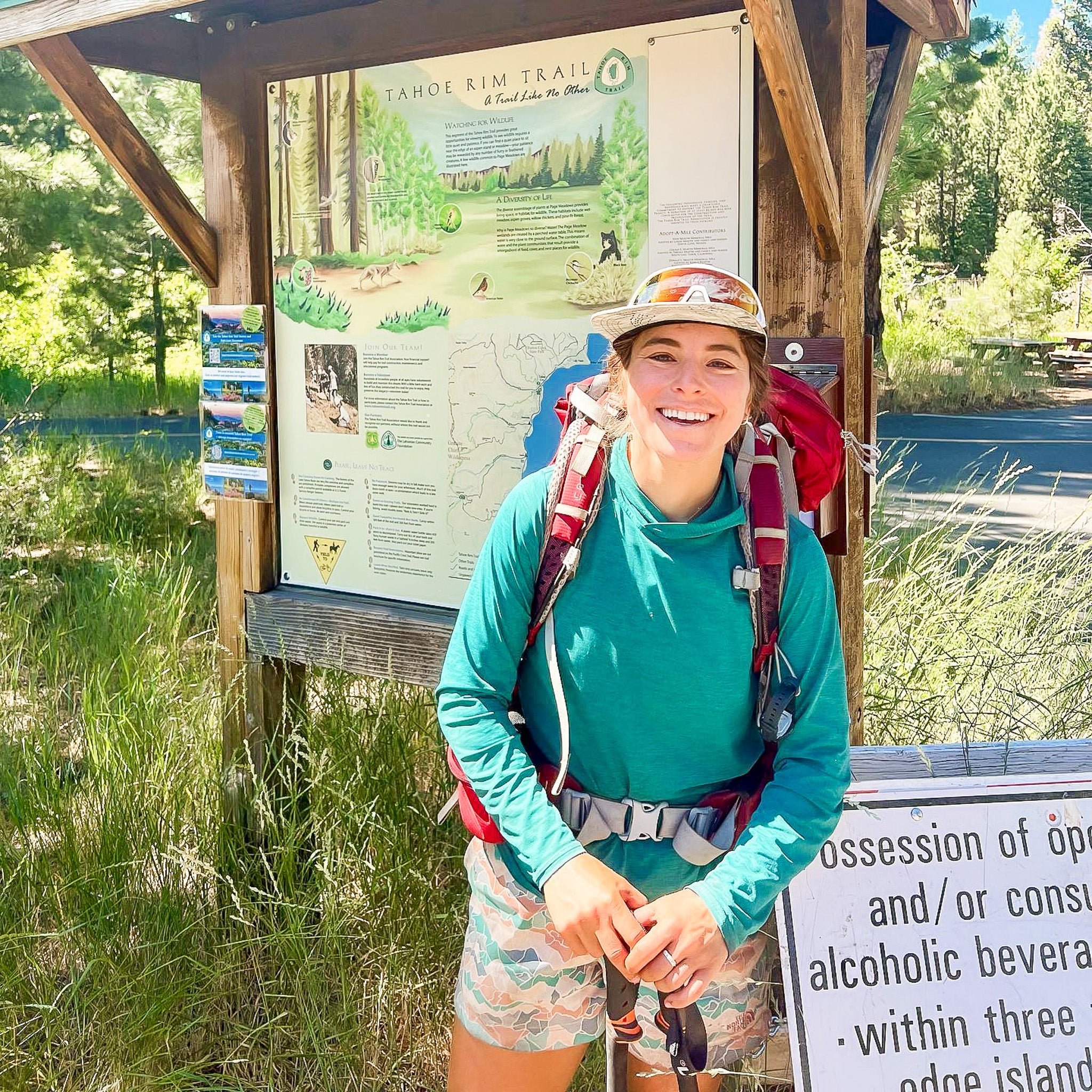 Sarah Zuckerman
she/her
Home mountain: Palisades located on the native lands of the Washoe people
Sarah in 5 words or less: Playful, passionate, driven, goofy, and stubborn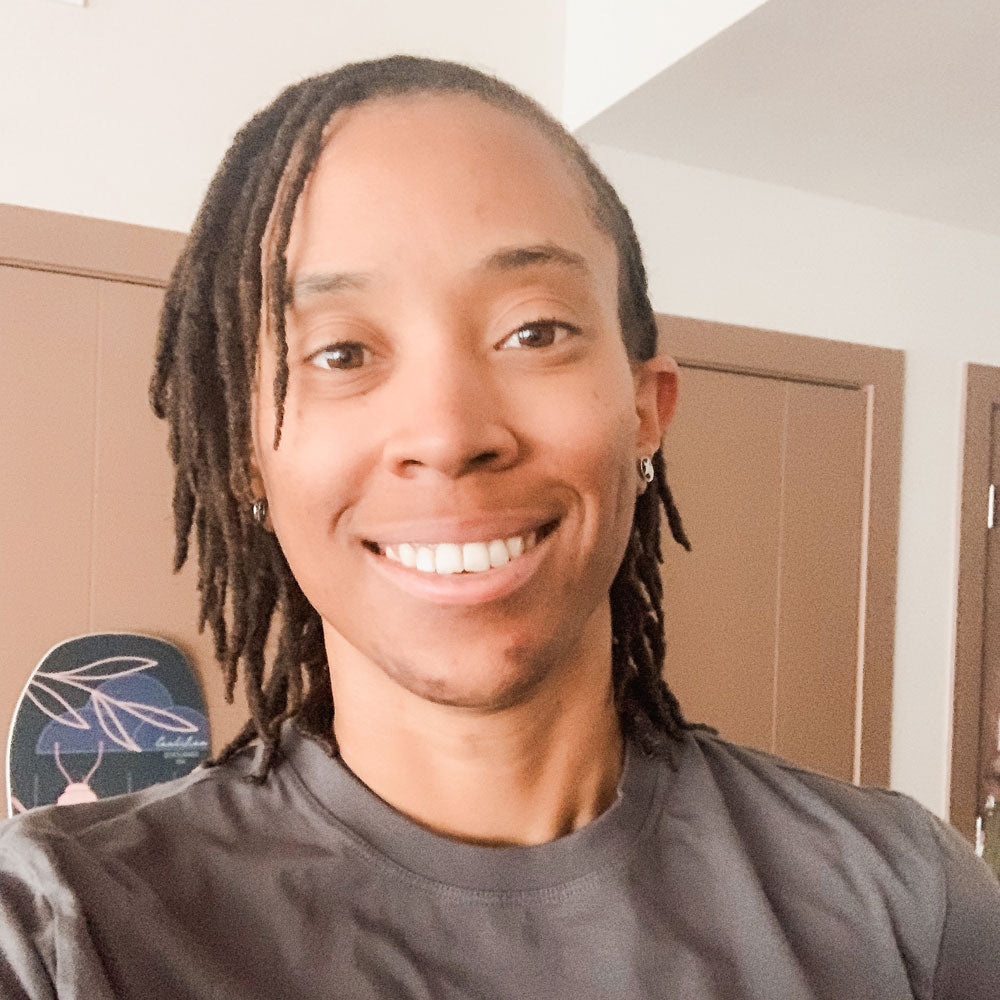 Nia Brinkley
she/her
Home mountain: Steamboat located on the native lands of the Ute people
Nia in 5 words or less: Chill, quiet, and kinda awkward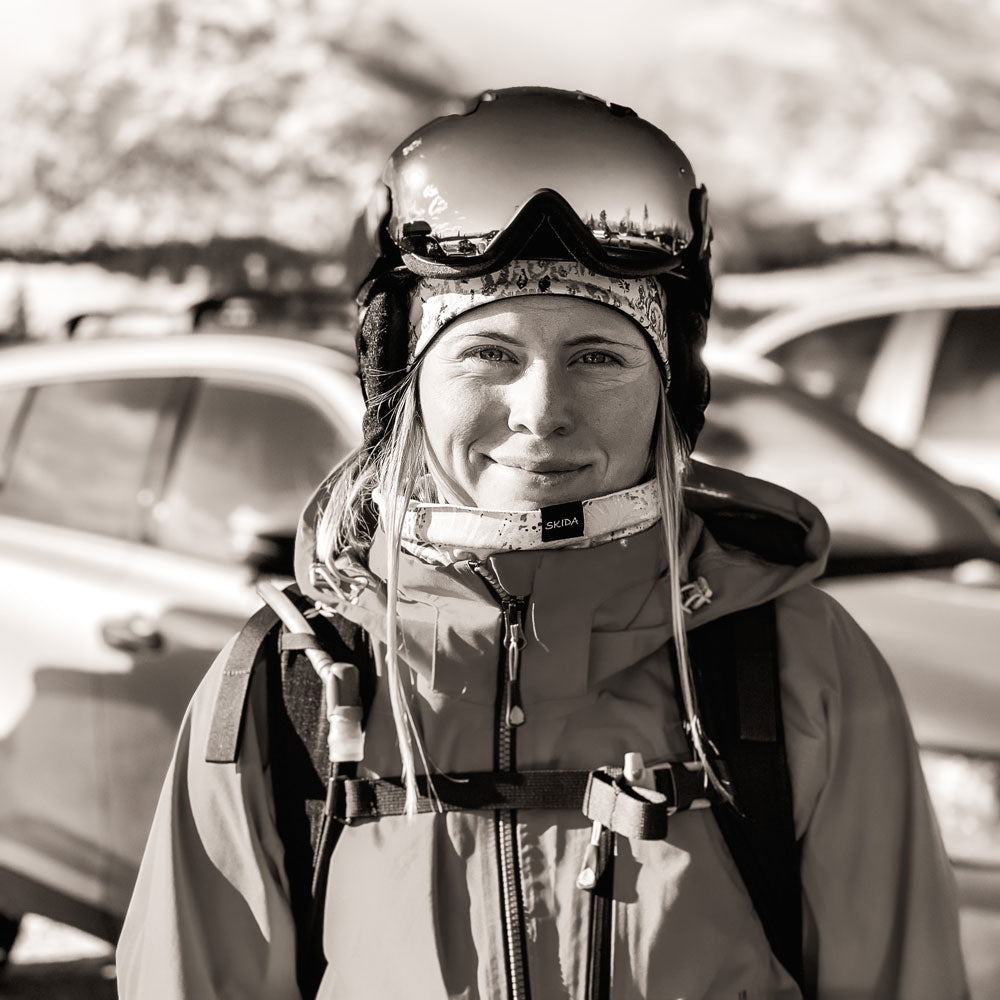 Lizzy Wagner
she/her
Home mountain: Jackson Hole located on the native lands of the Shoshone Bannock people
Lizzy in 5 words or less: Honest, creative, competitive, funny, athletic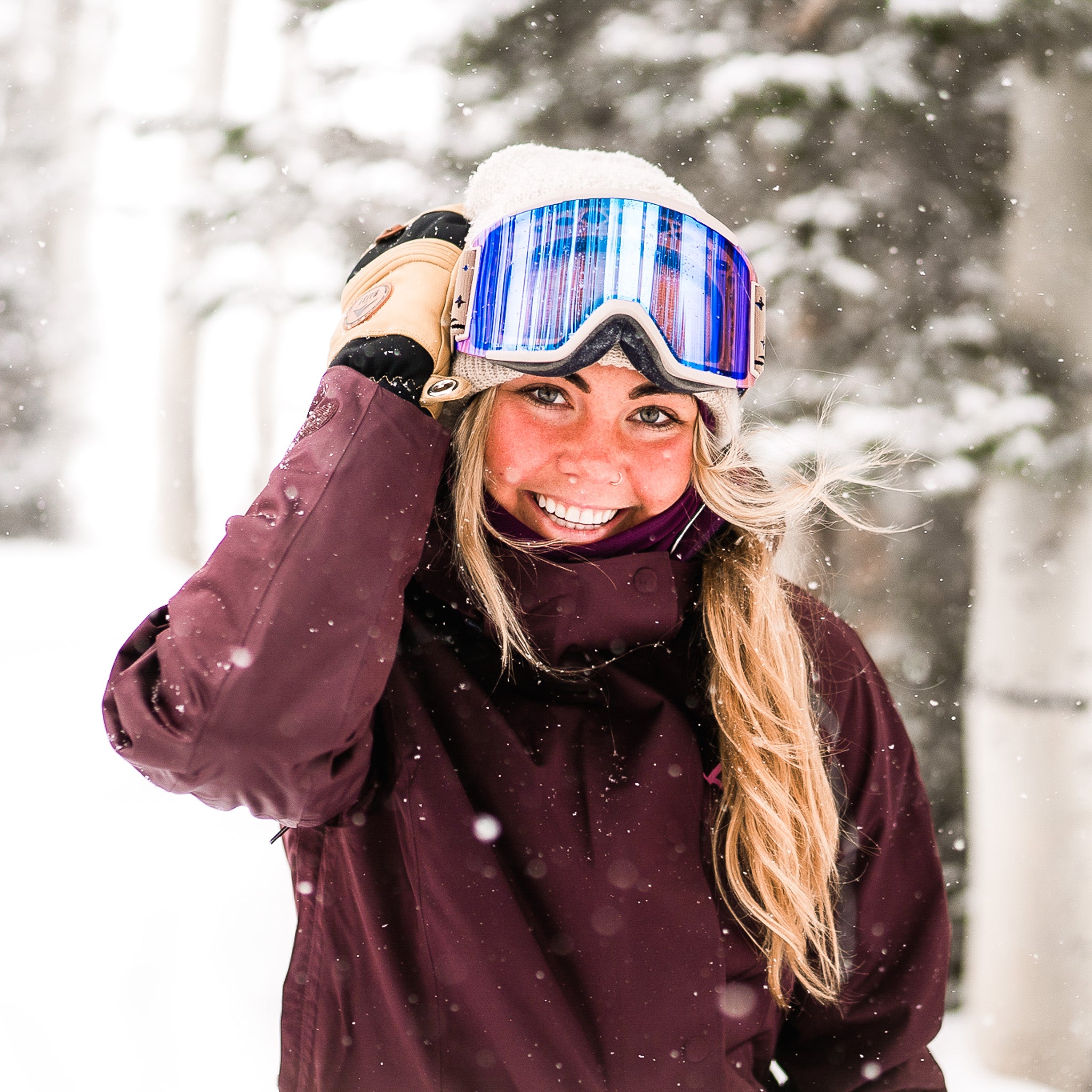 Sammy Olsen
she/her
Home mountain: Solitude and Snowbird located on the native lands of the Timpanogos, Eastern Shoshone, and Ute people
Sammy in 5 words or less: Carefree, adventurous, empathetic, passionate, grudge-holder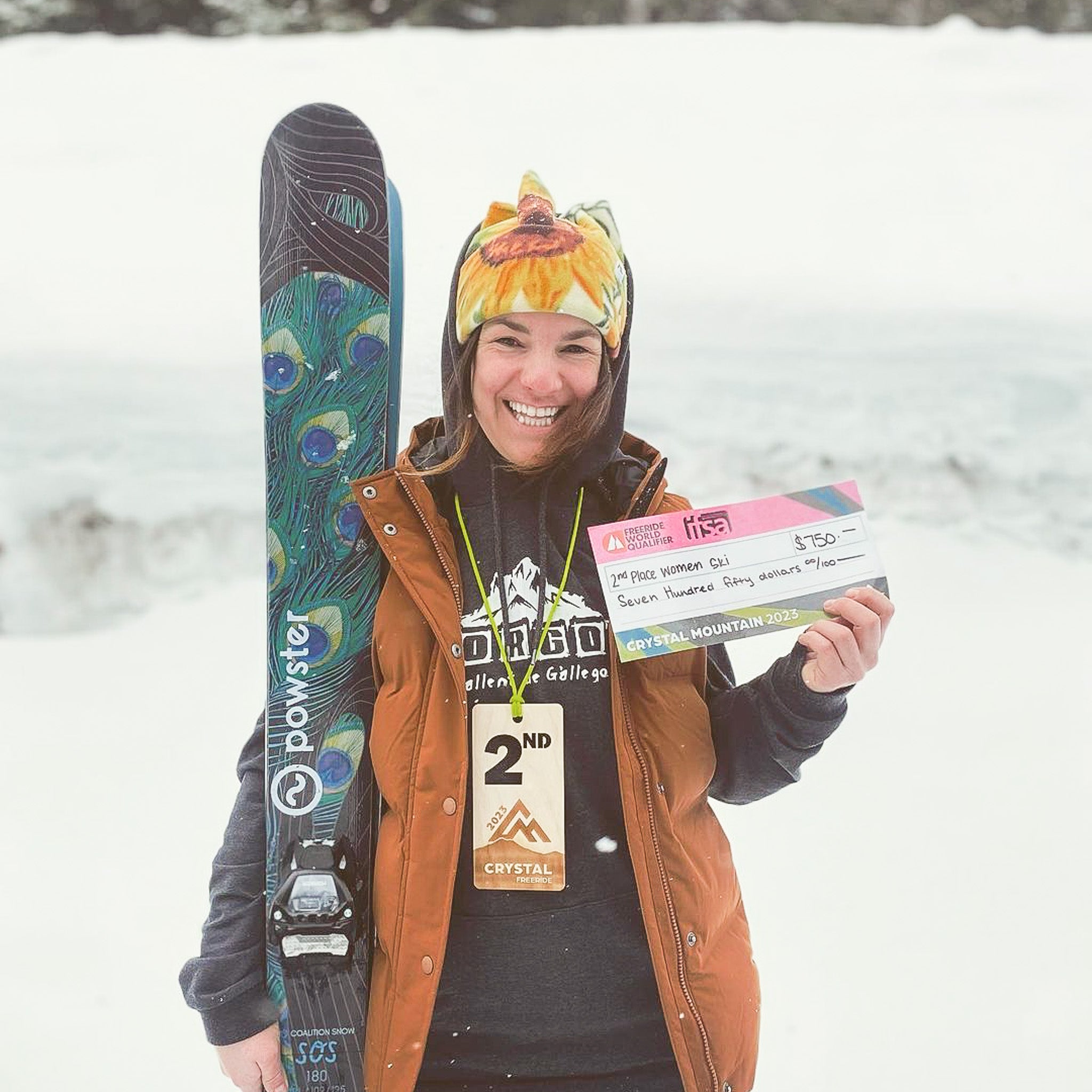 Ione Gangoiti Perez
she/her
Home mountain: Whistler located on the native lands of the Lil'wat, Skwxwú7mesh-ulh Temíx̱w (Squamish), and St̓át̓imc Tmicw (St'at'imc) people
Ione in 5 words or less: Determined, organized, and fun-haver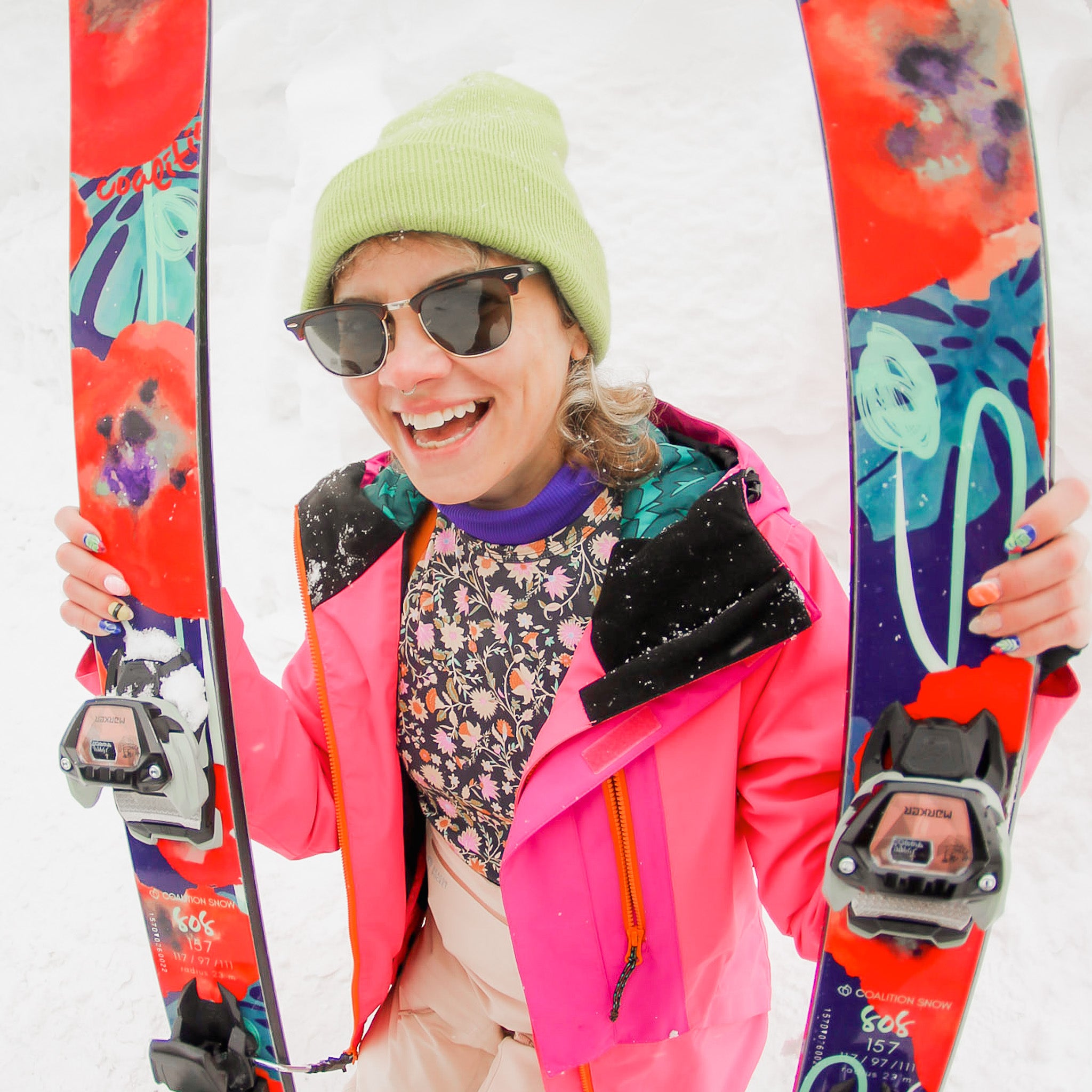 Megan Slack
she/her
Home mountain: Mammoth Mountain located on the native lands of the Numu (Northern Paiute) people
Megan in 5 words or less: Here for the vibes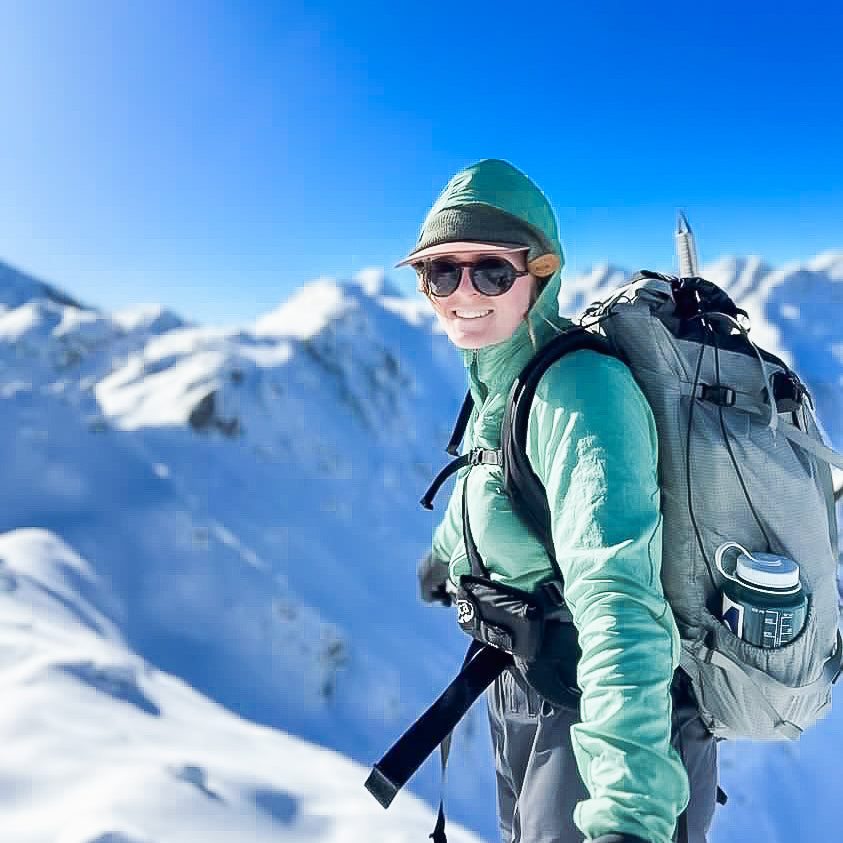 Clancy Sindlinger
she/her
Home mountain: Shames Mountain located on the native lands of the Nisga'a, Tsymshen, Tahltan, Gitxsan peoples
Clancy in 5 words or less: Plucky rabble rouser, energetic sh*thead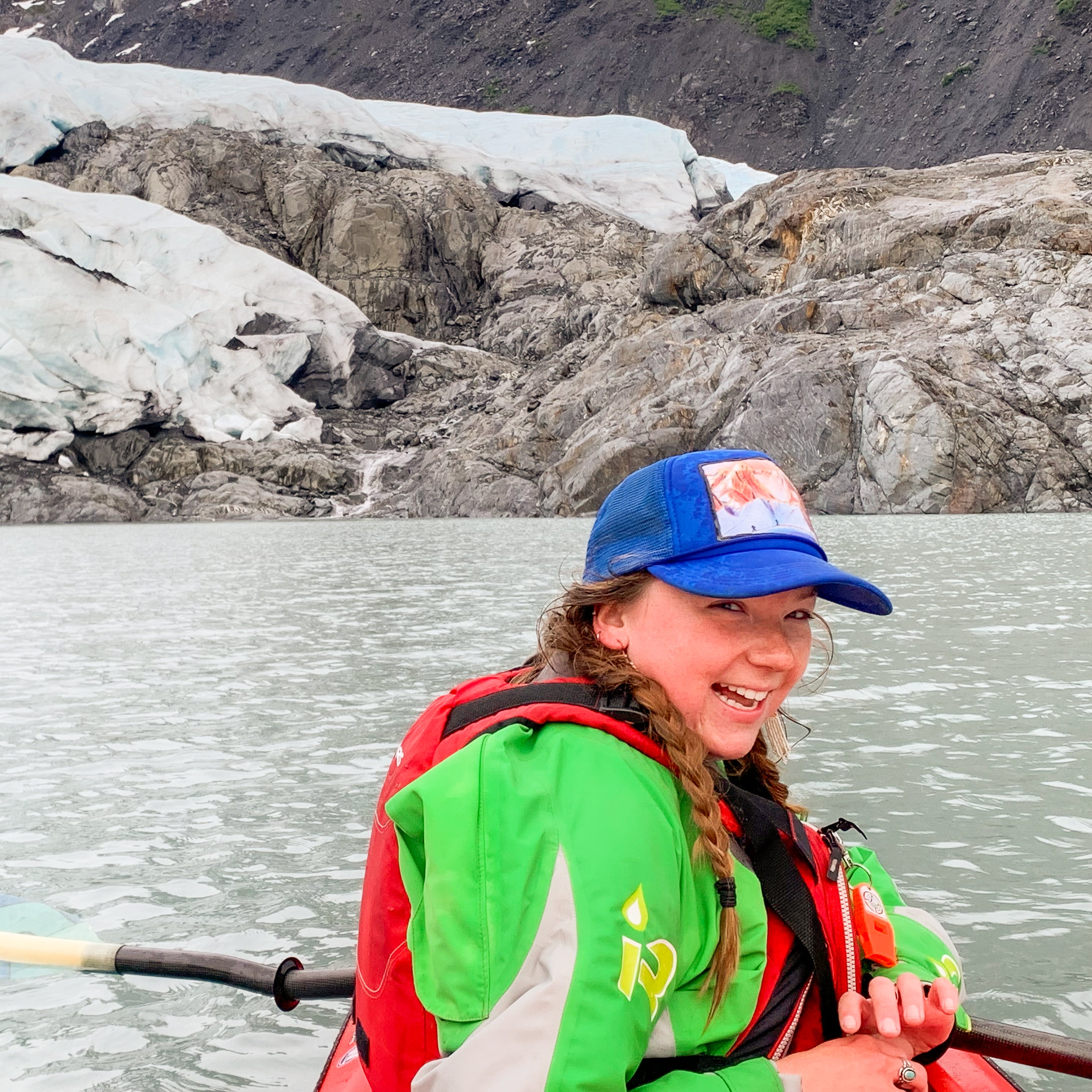 Emilia Porter
she/her
Home mountain: Alyeska located on the native lands of the Dena'ina Elnena people
Emilia in 5 words or less: Giggles, glitter, sunshine, and corndogs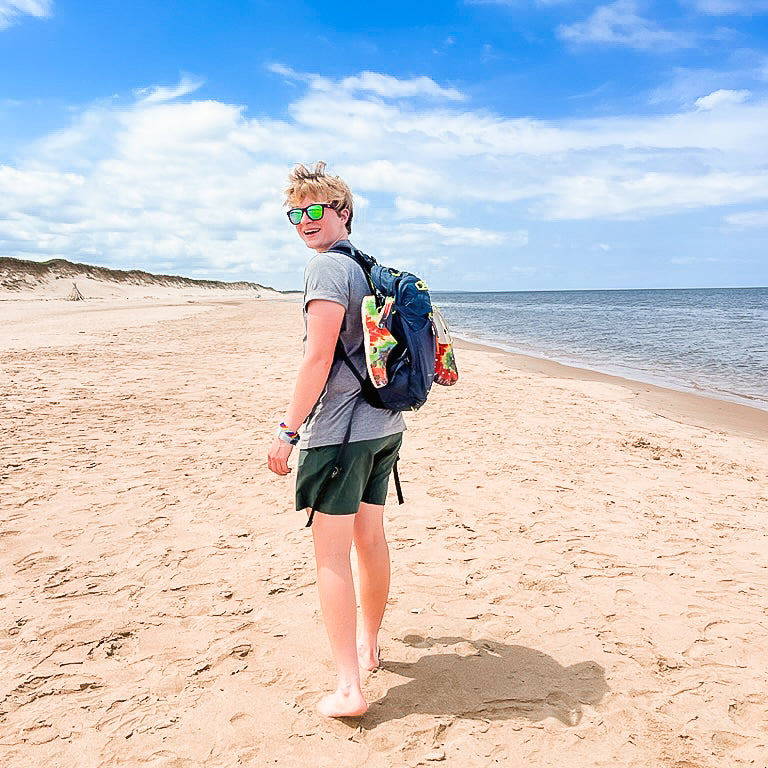 Owen George
they/them
Home mountain: Sunday River located on the native lands of the Wabanaki Confederacy
Owen in 5 words or less: Queer & trans adventurer, athlete, and activist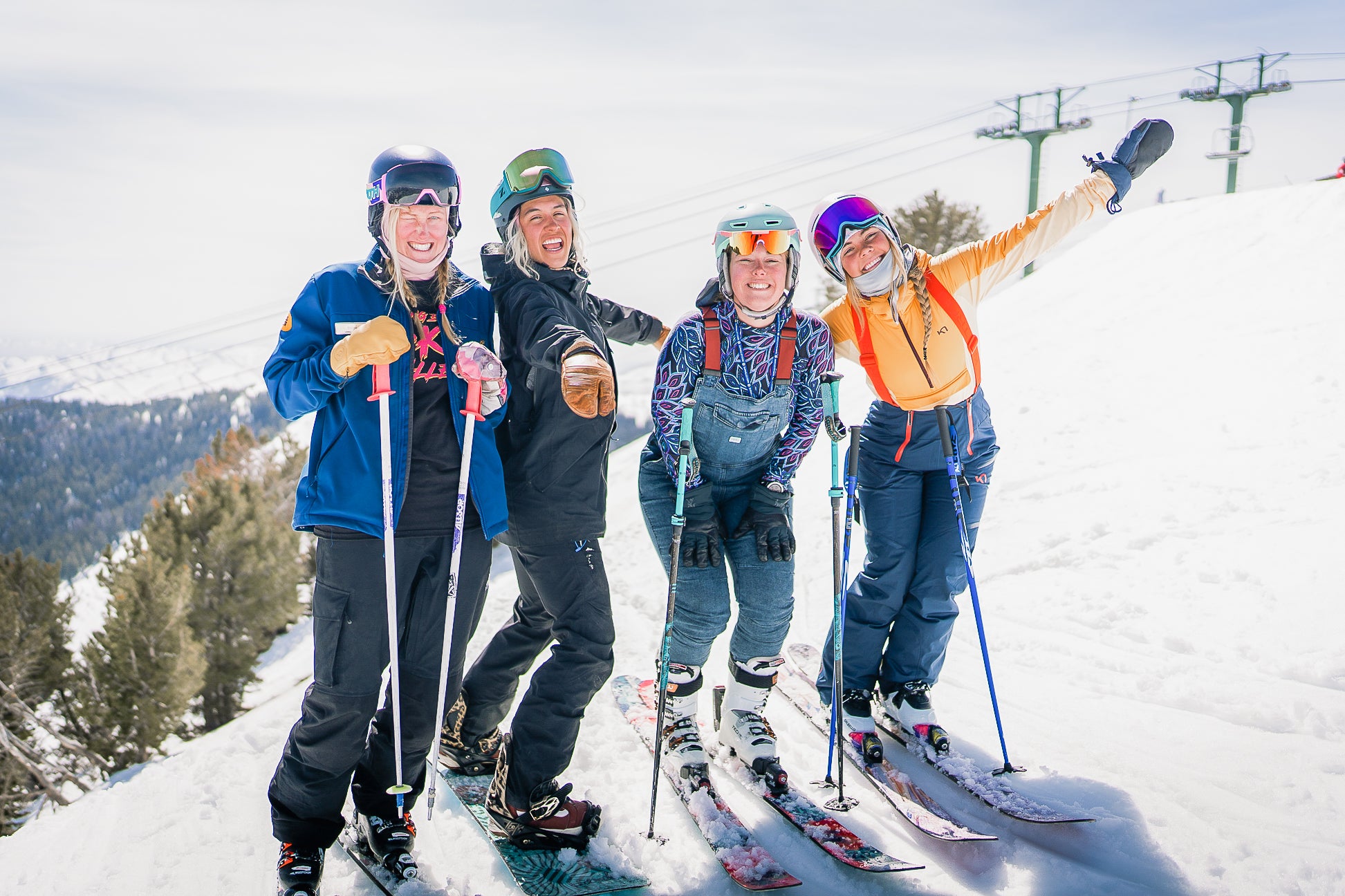 Interested in being an Ambassador?
Can't blame you, our community is amazing and our team calls + hangouts are always a good time. Please fill out the application below, we can't wait to hear from you.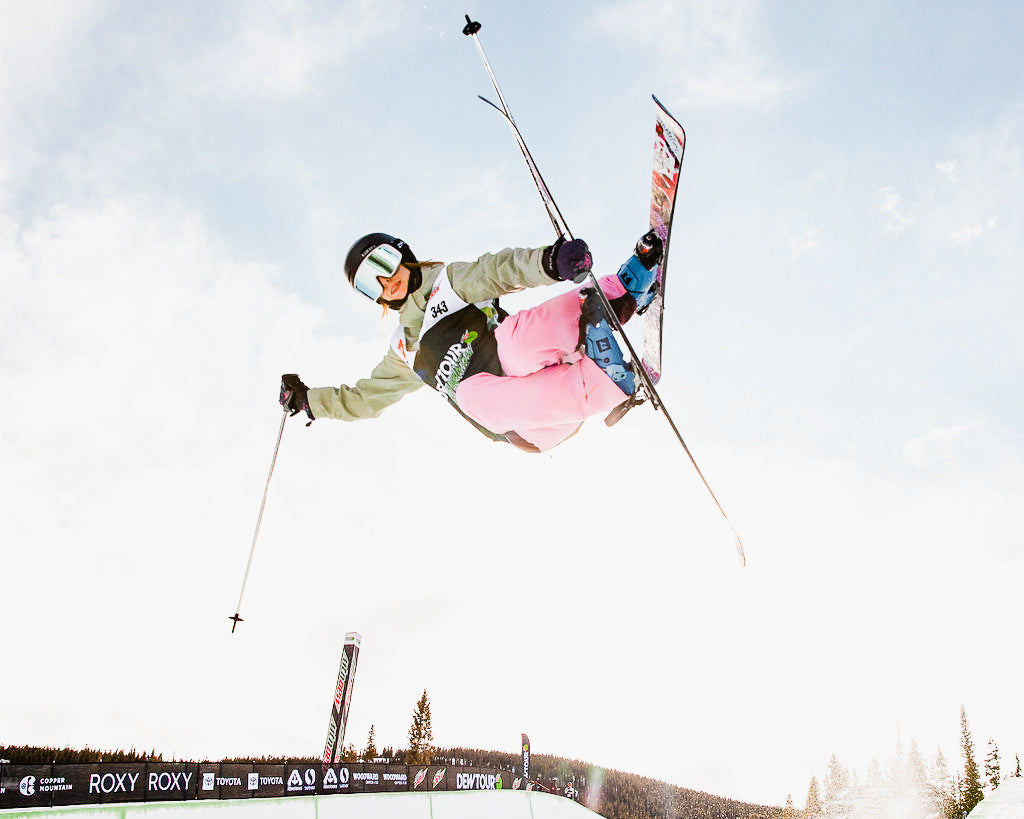 Interested in being an Athlete?
Our Ski and Snowboard Athletes are actively competing somewhere in the world, commit to solely repping our brand, and show a genuine interest in creating equity and accessibility to the outdoors. If that's you, click that button.