The 23/24 Blister Gear Review is out and the hot goss is that we kick ass
We already knew that, but we love when our feelings are validated. Blister is one of the only gear reviews that isn't pay-to-play. That means you get honest and transparent critiques.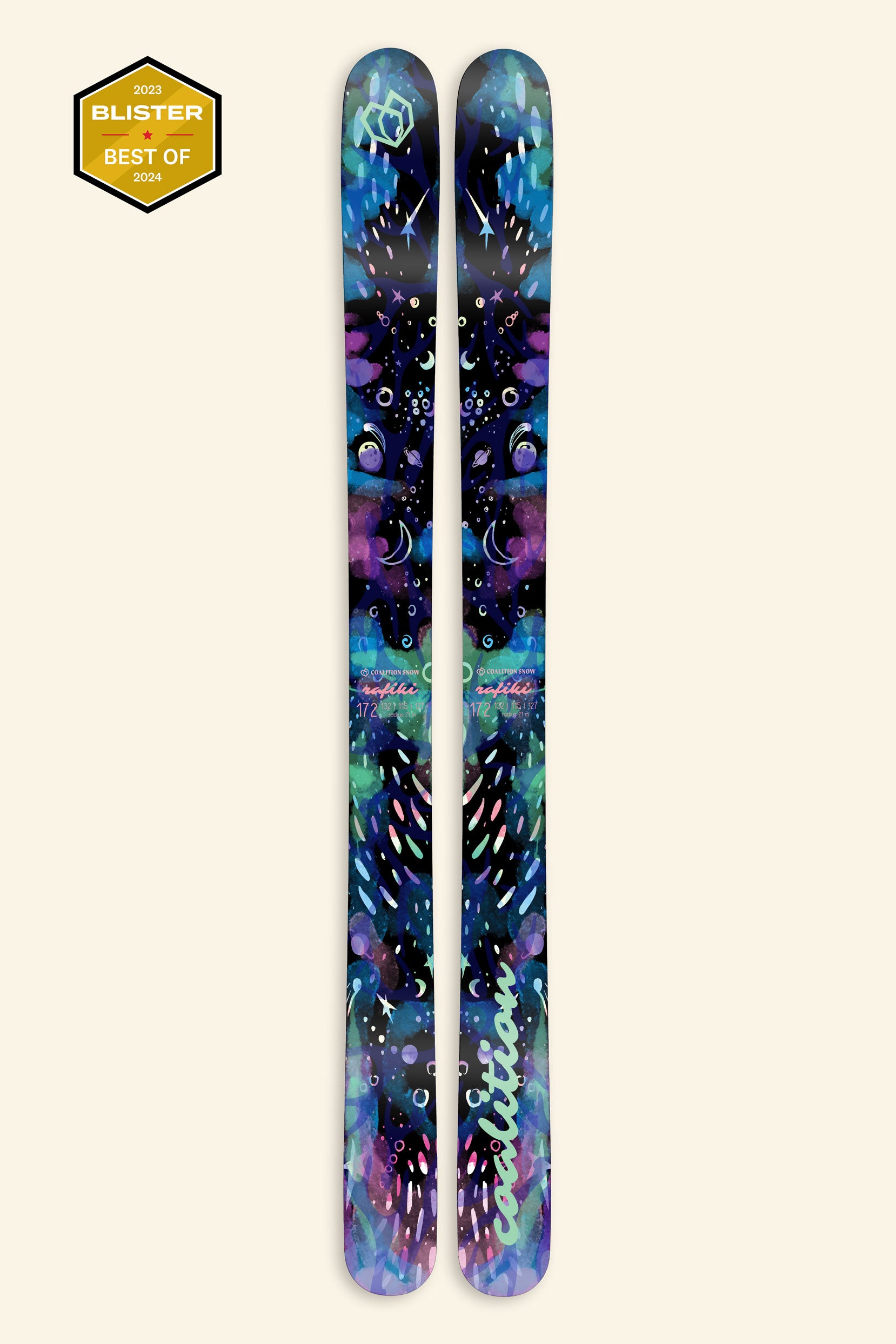 Blister Gear Best Of 2024
Rafiki Powder Ski
"The Rafiki is both one of the loosest, surfiest skis here and one of the most damp and composed in soft chop. It is really easy to throw sideways, carve, and pivot, which is beneficial in deep, heavy snow and tight terrain. It's also the heaviest ski here, which helps keep it from easily getting bounced around in cut-up pow. The Rafiki has a pretty centered mount point and its overall design is very freestyle-friendly, but our directional reviewers still appreciated its combo of maneuverability and stability. The Blizzard Sheeva 11 and Nordica Unleashed 108 W are much better in terms of edge hold and on-piste performance, but neither of those skis feels as eager to slide sideways in pow or as damp in crud as the Rafiki. Overall, the Rafiki is most at home in soft conditions, but it stands out in anything from deep and light powder to dense and heavy chop. If you like to slash your skis around and prefer a more calm, composed ride over a super nimble one, the Rafiki is for you."
Blister Gear Recommended
Rebel All Mountain Ski
"The Coalition Snow Rebel is a pretty easy and versatile ski that can still handle some higher speeds and more challenging conditions. Plus, Coalition Snow is a company that is fully owned and operated by women. This ski feels snappy and lively when arcing turns on groomed snow; while it's not the absolute best ~85mm-wide ski for carving icy slopes, the Rebel is still predictable on firm snow and is similarly accessible compared to the Line Pandora 84, but the Rebel feels notably smoother when the conditions are inconsistent.
The Rebel is ideal for those who want to spend a fair bit of time off piste on their narrower all-mountain ski, but who don't want something very demanding. For better edge hold when carving firm, smooth snow, check out the Blizzard Black Pearl 88 and Nordica Santa Ana 88 in our "More Stable" section. But the Rebel is great for those who want a narrower ski that they can use to actually ski all over the mountain, whether they're just learning how to carve or perfecting their technique in moguls."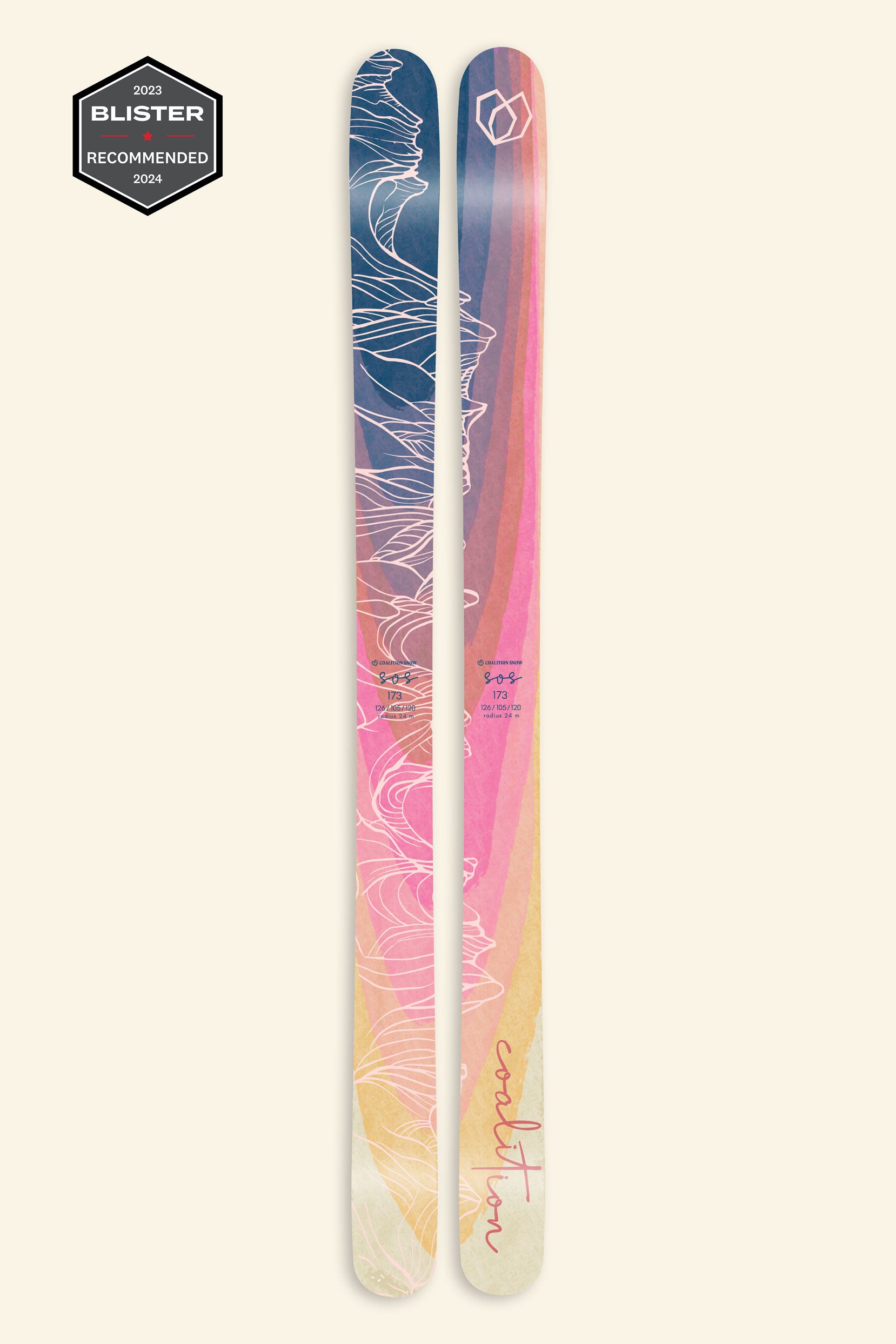 Blister Gear Recommended
SOS All Mountain Ski
"The SOS combines a playful, freestyle-friendly platform with a pretty burly, damp construction. Given its more centered mount point, the SOS's preference is to be skied with a more upright and centered stance. In this way, it's similar to the Moment Sierra, though the wider, heavier SOS is a better option if you prioritize suspension and stability in variable snow over a low swing weight. The SOS might not feel instantly intuitive to those coming from more directional skis, but it does offer a smooth, planted ride quality, thanks to its heavier construction, so it'll likely feel impressively stable if you're accustomed to more center-mounted skis. The Armada ARW 106 UL is worth a look if you want something even more lively, agile, and playful, whereas the SOS is similarly surfy but stays more composed in rough conditions. And if you like the sound of all that but are looking for more of a pow-specific ski, check out Coalition Snow's Rafiki in our "Women's Powder Skis" section. "