Choosing The Right Ski – Take The Ski Selector Quiz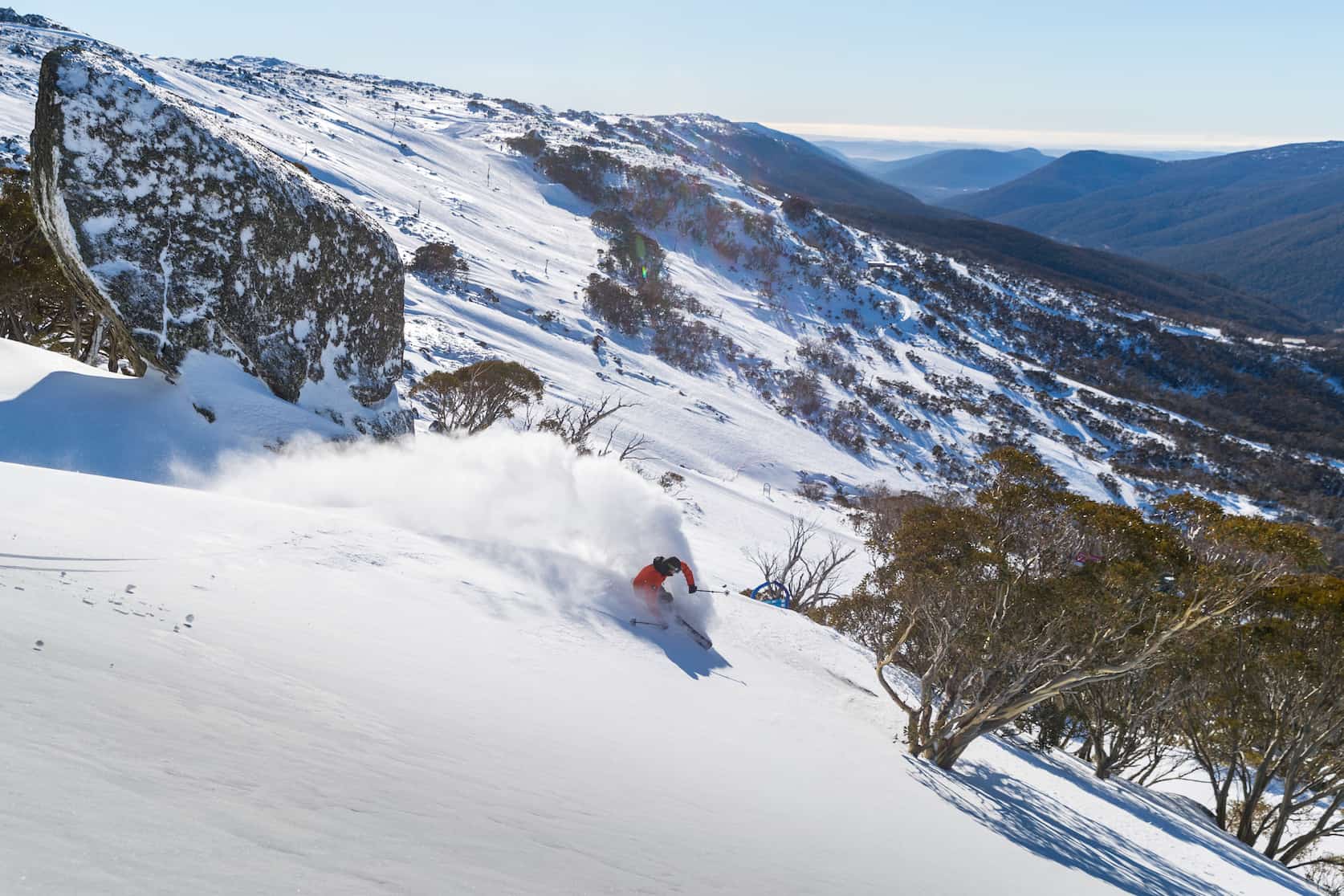 Mountainwatch | Gear Guide
Now that  we finally have some good snow conditions after last week's storm and there is more on the way next week, so now is a good time to purchase a new pair of skis.  Buying skis is a big decision so we've gone to the experts at Chillfactor ski magazine to give you some direction on finding the best ski for you.
By Watkin McLennan
The most exciting gear a skier ever buys is their skis. They are full of hopes and dreams. They represent who you are as a skier and they influence how, when and where you ski. Most other gear can be hacked. At the end of the day it doesn't matter what outerwear you wear or what kind of helmet. But your skis need to be the right size, the right personality and the right category. That is why the ski you choose is so important. It is why there are so many different skis out there to choose from. It is also why buying a pair of skis can be a difficult, albeit fun, exercise.
Ski brands give you a lot of options. In an effort to differentiate themselves they talk about "technologies" that will make you ski like a hero. Read some of the ski descriptions in the following text to experience the height of ski brand jargon, it's not bullshit, they're just not as unique as they make it out to be. At Chillfactor, we believe most skis are fantastic, so long as they are the right category, width and length for you.
In the past we have talked a lot about the "One-Ski- Quiver". At Chillfactor we love this idea and we live this idea – one ski that you ski all season no matter the conditions. Having only one ski to draw on makes traveling easy, it also helps you to understand how your ski works and how to work your ski. But deciding which ONE ski is right for you makes the whole process even more difficult. What follows is a ski selector quiz. It is designed to help you find that ONE ski that is right for you – Your "One-Ski-Quiver".
After the quiz we have listed a few of our favourite "One-Ski-Quiver" skis. You will notice how different many of the skis are. This is because there is no one "One-Ski-Quiver", everyone has their own perfect "One-Ski-Quiver". We hope this quiz will help you to find your "One-Ski-Quiver".
Answer the next three questions in our Ski Selector Quiz before going to your retailer who will help you make your final decision. Let us know how we do. Did we help? Contact us at Chillfactor.com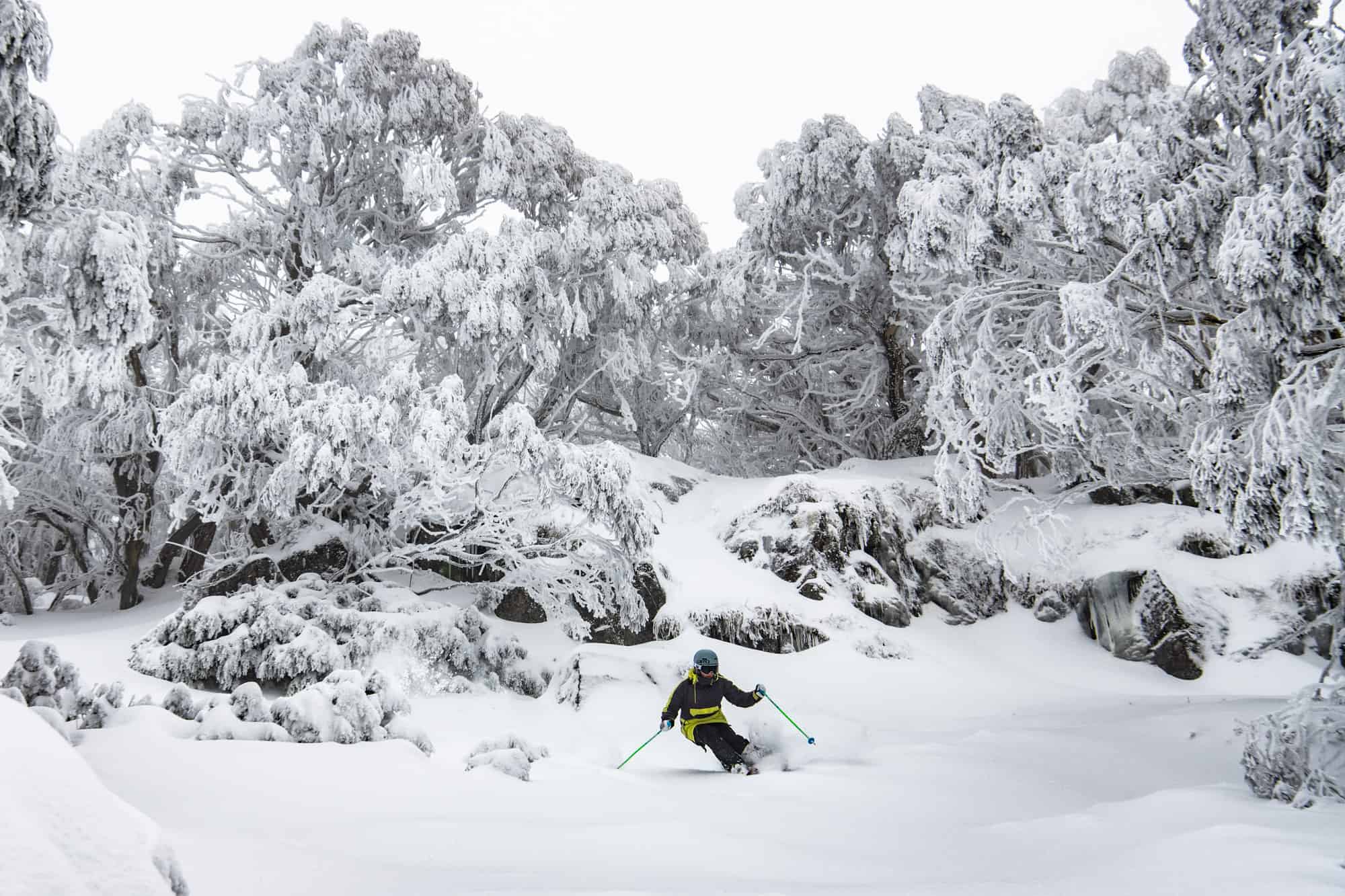 The Ski Selector Quiz
Question 1: Find your category
You are skiing and there is a feature in the slope in front of you. Do you?
a) Turn around it.
– You are an ALL MOUNTAIN SKIER
b) Turn over it?
– You are a FREERIDER
c) Air off it?
– You are a FREESTYLER
*As a general rule: Harder snow – Go narrow; Softer snow – Go wider
Question 2 : Find your waist width
How soft do you expect the snow to be that you will ski?
a) Hard groomers and ice – 60-70mm wide waist
b) Occasional slush or little powder – 70-95mm wide waist
c) Slush, crud, moderate powder – 85-105mm wide waist
d) Snorkel deep – 100mm+ wide waist
e) categories a to c – 70-100mm wide waist
f) categories b to d– 90mm+ wide waist
*As a general rule: Harder snow – Go narrow; Softer snow – Go wider
Question 3:  Find your ski length and refine its width
How fast do you ski?
a) Slowest – I love looping turns and I don't want to fall.
– Find a ski around chin-height with a waist width on the narrower side from the previous question.
b) Slow – When the snow is soft, and I can see I might let them run a bit.
– Find a ski around mouth-height with a waist width on the narrow to middle side from the previous question.
c) Fast – I love charging, but the guys in the movies are crazy.
– Find a ski around eye to head height with a waist width on the middle to wider side from the previous question.
d) Fastest – I am one of the guys in the movies.
– You know what you want.
*General rule: Slow – Go shorter and narrower; Fast – Go longer and wider
FREERIDE SKIS
The best thing about skiing is that no two turns are the same, let alone runs. You love to explore the mountain and you love to turn. Turn around trees, over wind lips, down chutes, over and around anything. When the snow is hard you are ski in the sun or down low because you know how the snow changes throughout the day. When the snow is deep you have already done a run before the lifts open, and a bit of tracked out powder never turned you off either. If you need to slow down, you drop the hip and get the skis arcing and sliding. You like a ski that can nip tight turns in the same breath as a high-speed burner. It all comes from the tail of the ski, short, stiff and high performance.
What to look for: Ski brands will often refer to the right skis for you as "Freeride", "All-terrain" or "Big-mountain"
General traits: Directional, traditional mount, 90mm+ width, Medium to stiff flex; Longer turn radius; Regular camber, early rise or reverse camber.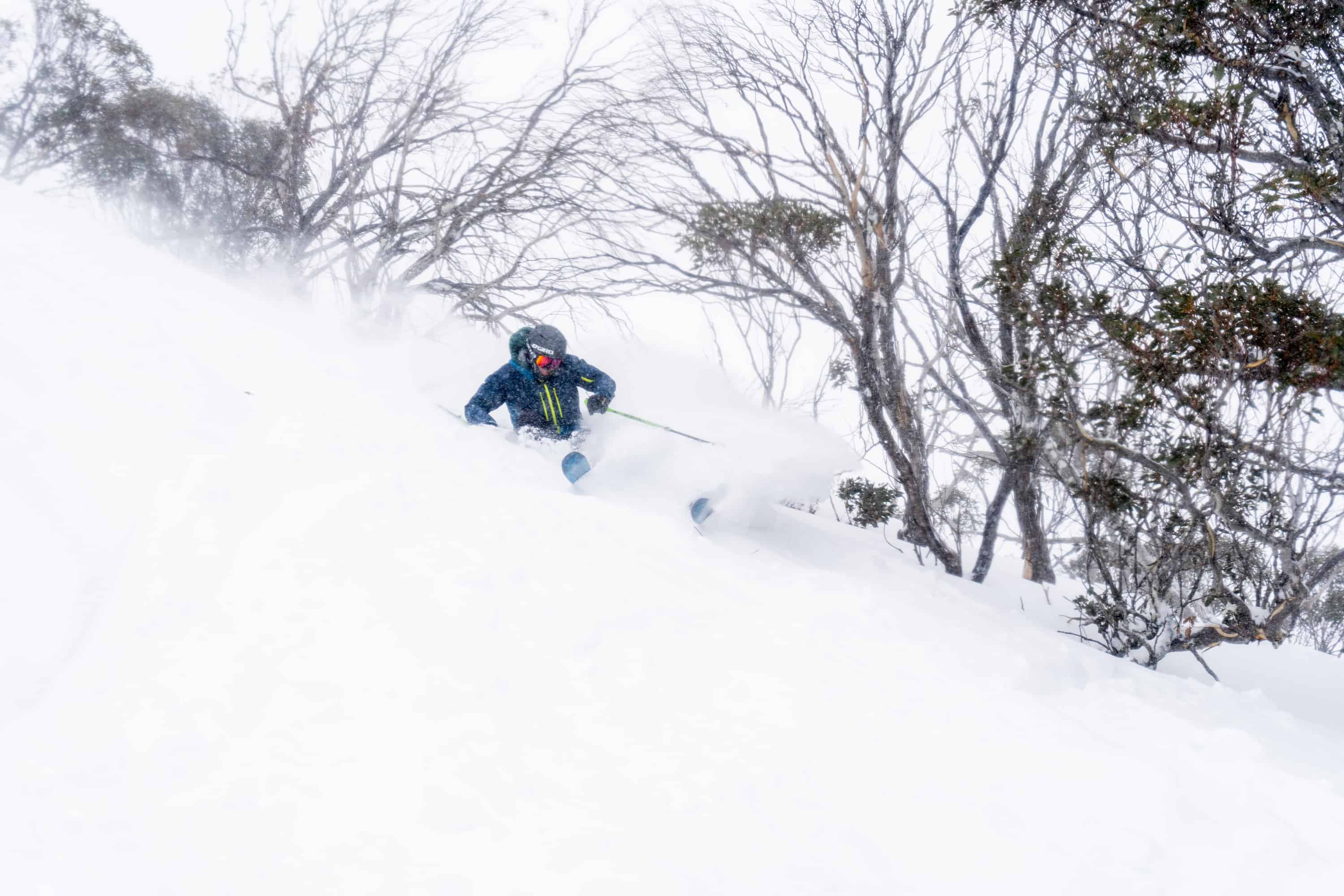 MEN'S FREERIDE SKIS
Völkl  Mantra 102
Lengths: 170, 177, 184, 191
Radius: 18.6m (177cm)
Waist Width: 102mm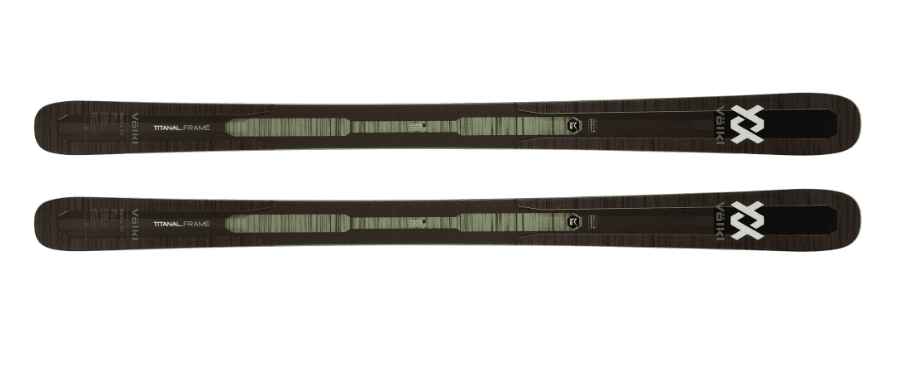 The new Mantra 102 with tip & tail rocker is a true power freerider. The titanal frame combined with carbon tips not only provides stability and dampening effects but also great liveliness. But the real highlight is the 3D radius concept. It allows a sidecut geometry which perfectly suits the rocker construction. Depending on the rider's speed or edge angle the effective edge becomes longer or shorter and the matching sidecut radius provides hold, manoeuvrability and smooth running.
Dynastar Legend 96
Lengths: 165,171,178,186
Radius: 15m (178cm)
Waist Width: 96mm

Dynastar are back. Known for their hard- core skis the Legend series has been refined over the last few years to now offer a mix of "hardcore" and "playful- ness". The all-new LEGEND X96 delivers freeride-inspired, all-terrain performance wherever the snow takes you. Dynastar's newest Powerdrive Free construction offers smooth dynamic power, playful energy, and grip for the most responsive ski control. A progressive rocker pro le and five-point sidecut supply the natural versatility and float, while titanal reinforcement delivers the additional power to charge through any snow conditions.
Elan Ripstick 96 Black Edition
Lengths: 167, 174, 181, 188
Radius: 18m (181cm)
Waist Width: 96mm

The award winning Ripstick series is known for being the best of both worlds; dreamy in powder and rips on the hard stuff. When the state-of-the-art Black Edition carbon construction meets the Ripstick, it's out of both worlds. A prodigy in powder, the extremely versatile ski upgrades with even more response and power on the hard-packed snow. Still featuring a full wood core, Amphibio construction & sleek design, the Elan Ripstick 96 Black Edition is your one ski quiver.
Faction CT 3
Lengths:162, 169, 176,182, 186, 192, 204
Radius: 20m (182cm)
Waist: 108mm

The CT 3.0 has a versatile 108mm waist that floats with ease in the deep snow but is also manageable and responsive in choppy and harder conditions. Designed with Candide, the freestyle-inspired shape with a tapered sidecut makes the ski easy to press and wash out when you want to jib, but also holds a strong edge when you ask more from it at high speeds.
RMU "North Shore 108" 
Lengths: 185, 195
17m radius
Waist: 108cms

RMU's most anticipated ski is the addition of the 108. This ski has been drawn up by RMU athletes from around the world. Featuring a stiffer core, the 108 can handle high speeds for the bigger lines but is still agile enough for hucking. RMU has added a larger tip and tail rocker to bring the ski up to plane quickly. They've moved the contact surface forward allowing for a longer radius and added extra binding reinforcement for bigger drops. The 108 is a serious weapon and a great addition to any quiver.
Black Crows Navis (Watkin's Pick)
Lengths : 169.4, 179.4, 185.4
Radius: 19m (179.4cm)
Waist Width: 102mm

I used to well and truly place myself in the freestyle category. I thought a long sloppy tail was key to playing around in the Aussie Alps. That was until I skied on the Navis. This ski has a pretty long radius and nds a beautiful balance so it can perform in all conditions on all terrain in all states of mind. Playing in the mountains is no different now that I don't have a twin tip I just and myself doing more turns, slashes and whips…v not as many butters.
WOMEN'S FREERIDE SKIS
Völkl Kenja 88
Lengths: 149, 156, 163, 170
Radius: 15m (163cm)
Waist Width: 88mm

The 2020 Völkl Kenja 88 Women's freeride ski is a good choice for a skier looking for a ski that's versatile, stable and playful for the whole mountain in all conditions. It's quick edge to edge, poppy in turn transitions and stable at speed. At 88mm under- foot, it provides the versatility to perform off piste as well as it does on.
Coalition Snow  SOS
Lengths: 157, 166, 173, 180
Radius: 24m (166cm)
Waist Width: 101mm (166cm)

Don't fix what isn't broken. The award-winning SOS is the perfect ski that transitions from couloirs, to groomers, to powder filled bowls, seamlessly, just the way you like it. The SOS pairs rocker with traditional camber underfoot. Float on the pow and shred in the steeps with a multiple radius sidecut that gives you ultimate control and creates smoother turns in all conditions. A full birch core provides the stiffness you've been looking for.
K2 Mindbender 88Ti Alliance
Lengths: 149, 156, 163, 170
Radius: 14.7m (163cm)
Waist Width: 88mm

Quick underfoot, with the reinforced Power Walls and a Titanal-backed construction you need for full-throttle hip-to-snow carving, the K2 Mindbender 88Ti Alliance Skis also have the shape and early tip and tail rise required for chalk, chunder and chowder blasting to your hearts content. This is a piste ski designed for freeriders – it'll rip the hard stuff with the best of 'em, but truly shines the day after the storm.
FREESTYLE SKIS
The mountain is your canvas and your skis the paint- brush. Skiing is about riding features to slash, butter and air and if the snow is not cooperating then the park probably is. Skiing switch is fun, but you also love a longer, softer tail that you can press out on take offs and landings. If you need to slow down quick you shut it down sideways with a few power slides and then ollie out to get your balance back.
What to look for:
Ski brands will often refer to the right skis for you as "Freestyle", "Park", "Freeski" or "New-school"
General traits: Twin tip, mounted near centre; 80mm+ width
. Softest to medium flex; Short to long turn radius; Regular camber, flat to early rise and reverse camber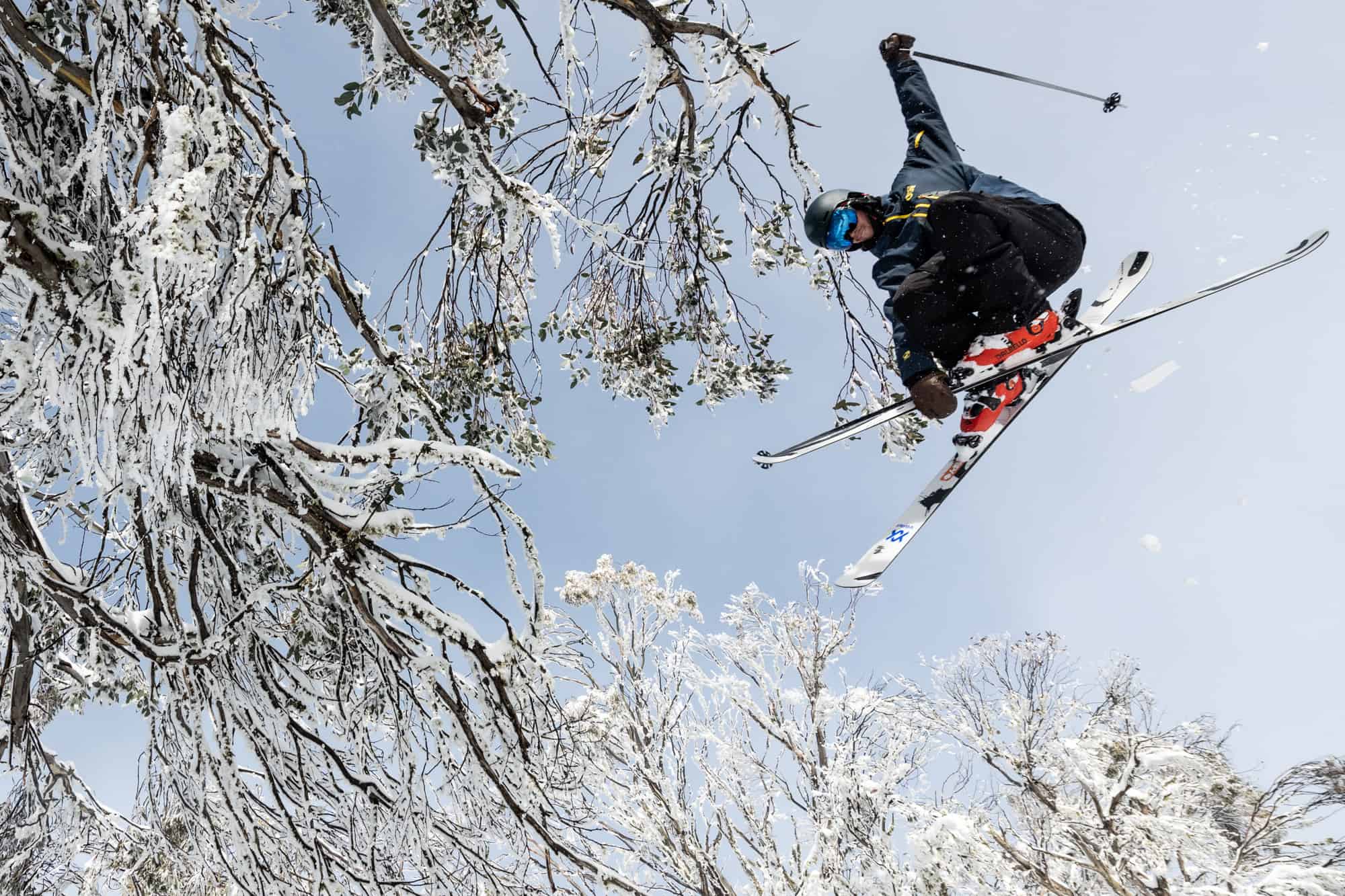 MEN'S FREESTYLE SKIS
Faction CT 2.0
Lengths: 158, 166, 172, 178, 184, 188
Radius: 16m (178cm)
Waist Width: 102mm

Those that ski on the CT dream of no other ski, no surprises when you have the world's greatest skier shredding on them. This symmetrical sidecut and smooth transition between rocker and camber gives this ski its playful feel and means it loves to pop lips, butter rollers and whip effortlessly between turns. The car- bon stomp pad underfoot gives a solid landing while the anti-chip micro-cap sidewall construction ensures you can have the same level of fun season after season. The same flagship formula, in a wide range of lengths to t everyone. This ski won't make you ski like Candide, but it might get you one step closer.
Dynastar Menace 90
Lengths: 140, 150, 160, 170, 180
Waist Width: 90mm

The 2020 Dynastar Menace 90 is a mid- fat twin tip ski for all terrain exploration. The Menace is just at home in the terrain park as it is ripping through the trees or carving groomers. The twin tip design provides a stable and forgiving skiing platform with incredible response. The Xpress binding system makes set-up a breeze and allows for easier ski boot upgrades in the future. An ode to the Trouble Makers of the past, the top sheet also changes coloor in direct sunlight.
Fat-ypus L-Toro
Lengths: 162, 172, 182
Radius: 19m (172cm)
Waist Width: 101mm

This ski is the perfect blend of park, all mountain and powder for all levels of skier ability. It has a softer ex than some of the other Fat-ypus models, yet still retains that poppy, lively feel that is expected in a Fat-ypus ski. With early rise in the tip and tail and some camber underfoot, the L-Toro is an easy ride in the fresh stuff , yet still holds a great edge on hard pack and is super quick and effortless to turn.
Volkl Revolt 86
Lengths: 148, 156, 164, 172, 180
Radius: 21.2 (172cm)
Waist width: 86mm

The Revolt with 86mm middle width is a pure-bred backcountry tip & tail rocker twin tip and a preferred choice of our team riders. The butterzone allows to pull off smooth transitions to switch and back. The carbon stringer delivers not only the right amount of pop but also nice agility in the turns. A tough box construction, P-Tex 3000 and a multi layer wood core round out the high quality setup.
Line Pescado ((Watkin's pick)
Lengths: 166, 174, 181
Radius: 15m (174cm)
Waist width: 105mm

Two years ago, Line introduced the Pescado, a 125mm-underfoot powder ski from Eric Pollard. The Pescado was (and still is) unique, featuring a swallowtail de sign, lots of camber for a pow ski, a fairly low weight, and a mount point that was much more traditional than what we'd expect from Pollard. I had the pleasure of skiing around Buller on a pair for a few weeks and it made me appreciate how diverse skis can be and how diverse freestyle skiing can be.  The Sakana is the narrower brother of the Pescado, much more suited to the conditions found by non-pro skiers. I can't wait to whip them out one day.
WOMEN'S FREESTYLE SKIS
Faction Prodigy 1.0 X
Lengths: 152, 158, 164, 172, 176, 181, 187
Radius: 16m (176cm)
Waist Width: 90mm

The brand-new Prodigy 1.0x is a park ski built to help you get creative inside and outside of the park. This poplar-cored, 90mm underfoot freestyle twin, seasoned with 3mm of camber, has buckets of pop and ex while maintaining real performance on the downhill. Rebelling against symmetrical park ski tradition, the directional shape of the Prodigy 1.0x ensures that you have more control throughout your turn. Flax stringers, lighter and more ecological than fibreglass, keep the ski lightweight while fat 2.2mm edges, thicker bases and full cap tips and tails ensure strong skis that will last longer than July's rock and ice.
Völkl  Bash 86 W
Lengths: 148, 156, 164, 172
Radius: 18.6m
Waist Width: 86mm
The new Bash 86 W is a tip and tail rocker twin tip for skiers that love to play all over the mountain. Easy to handle with a great all-mountain performance. The butter zone allows to pull off smooth transitions to switch and back. The car- bon stringer delivers not only the right amount of pop but also nice agility in the turns. A full sidewall, P-Tex 2100 and a multi-layer wood core round out the setup.
Fat-ypusSass-e
Lengths: 172
Radius: 19m (172cm)
Waist Width: 92mm

The Sass-e is exceptionally light and fun to ski in any conditions and on any terrain. With early rise in the tip and the tail, it will take you all over the mountain, the half pipe and park. The light weight feel of this ski is what helps set it apart from other skis when sending tricks in the park, cruising through the bumps or floating through the trees.
ALL MOUNTAIN SKIS
You grew up skiing on straight ski and remember when parabolics came in. That was a game changer for you and now you love skiing more than ever, even though
you might only get out there a few weeks a year. On a powder day you might ski a bit of powder off the side of the groomed run but what is even better is groomed pow. When the groomers are squishy that is heaven. Skiing up high can be fun too when the wind has flattened out the snow pack like on Antons in Thredbo or Buller's Summit. Deep down, skiing all over the mountain is fantastic, so long as there are no rocks, no bumps and a chairlift to get you back up.
What to look for: Ski brands will often refer to the right skis for you as "All-Mountain", "Piste", "Frontside" or "Resort" skis.
 General traits: Directional, traditional mount, 60-95mm width ; Soft to stiff; 
Short turn radius; Regular camber sometimes with early rise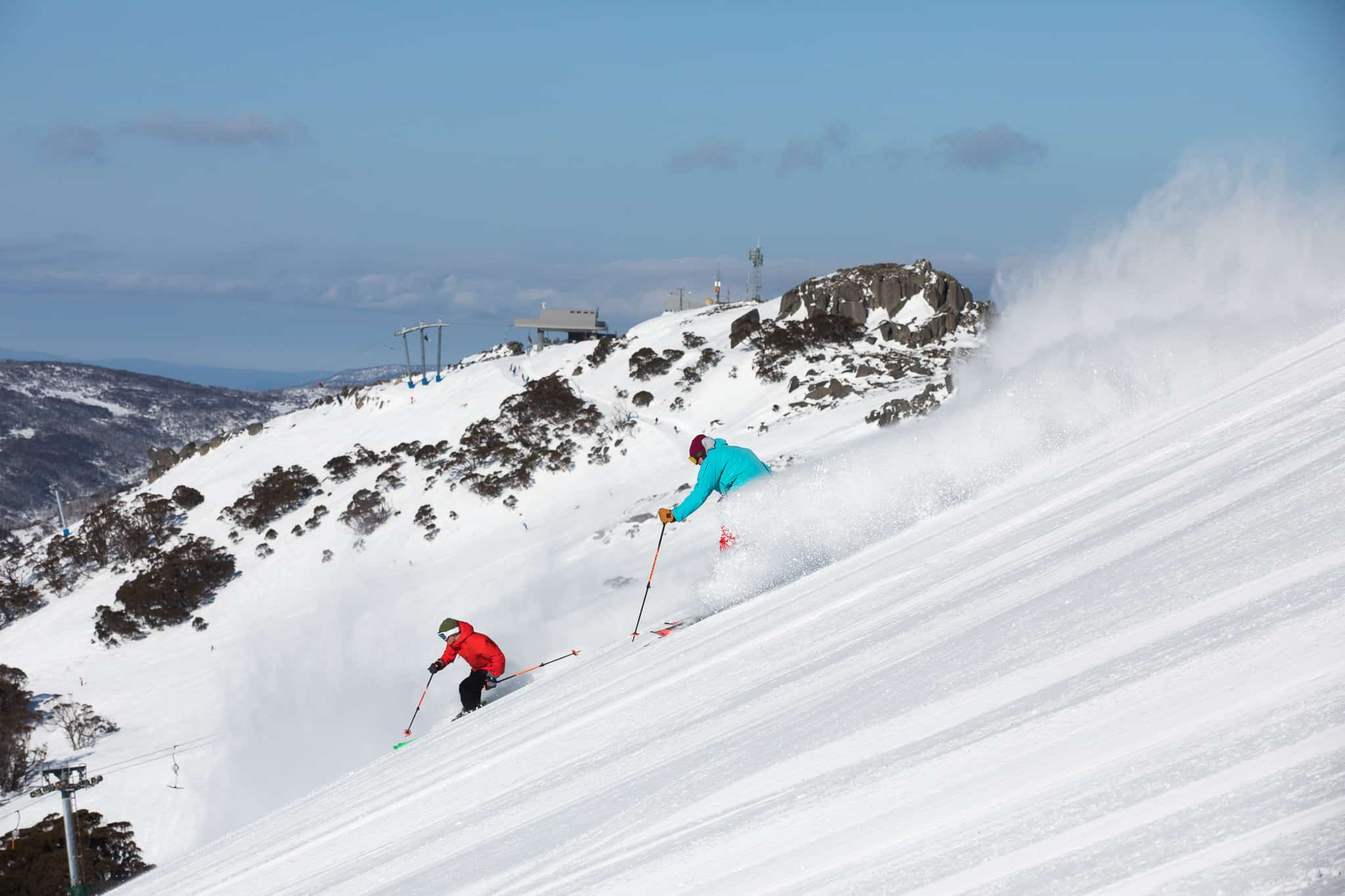 MEN'S ALL MOUNTAIN MEN
Völkl Deacon 84
Lengths: 162, 167, 172, 177, 182
Radius: 15.8m (172cm)
Waist Width: 84mm

Brand new this season, the 2020 Völkl Deacon 84 Men's All-Mountain Ski is set to be a benchmark for All Mountain skis. Providing ample manoeuvrability and powerful edge hold on the front side of the mountain for the high intermediate to advanced skier. Without feeling too heavy on your feet, it is damp, its stable and is powerful on hard pack. We love the all-conditions performance this ski allows for, coupled with great long turn dynamics for a fun ride all the way down the hill.
K2  IKONIC 80Ti
Lengths: 156, 163, 170, 177, 184
Radius: 17.5m (177cm)
Waist Width: 80mm

If you're the kind of skier whose day is best spent laying down trenches on your favourite high-speed groomers then look no further. This ski utilises a manoeuvrable yet stable Aspen/Paulownia core with a touch of tip rocker to decrease edge-to-edge transition time. Stability at speed is boosted by the inclusion of Carbon Spyne and Ti Laminate tech to dampen the ride. Konic construction focuses the heaviest parts of the ski where you need them – on the edges for maxi- mum power transmission and edge grip
Elan  Wingman 86CTI Fusion X
Lengths: 160, 166, 172, 178, 184
Radius: 16.5m (178cm)
Waist Width: 86mm

The ultimate All-Mountain companion, the Wingman series is built for all conditions and all terrain. With the versatility of Carbon (C) and the aggressiveness of Titanium (TI) the CTI construction allows you to shred the mountain with ease and style. Paired with a fusion binding system, the skis feel a stronger edge underfoot. The skis also make use of Elan's asymmetrical Amphibio shape, which allows a quicker and easier initiation into the turn without catching your inside edge.
WOMEN'S ALL MOUNTAIN SKIS
K2  Anthem 80
Lengths: 146, 153, 160, 167
Radius: 15m (160cm)
Waist Width: 80mm

Designed for ultimate speed and versatility, the Anthem 80 crushes crud and carves groomers. Alliance driven design utilizing carbon, aspen, and r, this ski is for those who explore all options when all-mountain resort skiing.
Dynastar W Intense 4×4 78 xpress
Lengths: 150, 158, 164
Radius: 15m (156cm)
Waist Width: 78mm

The all new 2020 Dynastar Intense 4×4 78 offers a great option for all mountain skiers. Blending the best parts of the Dynastar Intense and the Legend W series like 5-point sidecut, rocker where it counts, and a lightweight XPRESS binding system come standard, the Intense 4×4 78 is at home in most terrain, and excels on trail under moderate speed.
Roxy Kaya 77
Lengths: 110,120, 130, 140, 150
Radius 11m
Waist width: 68mm

An all mountain ski with the intermediate skier in mind, the Kaya 77 has a stable partial wood core and an easy to turn 77mm waist. An on-piste skis built for progression, the Kaya inspires confidence and will help take your skiing to the next level
Blizzard  Black Pearl 88
Lengths: 145, 152, 159, 166, 173
Radius: 12m (152cm)
Waist Width: 88mm

Among the most versatile of all women's skis, the Black Pearl 88 offers a manoeuvrable, but stable platform. By combining an 88mm waist, and just the right degree of tip-rocker, Blizzard hooks you up with the assets required to stage an aggressive strike on or off the piste. Camber under foot helps you find your edge on the iciest, wind-swept steeps Australia has to offer. The Black Pearl 88 is freeride inspired, with a rounded tail shape that is ideal for playful carves. This ski is the gateway drug to all the freeride and freestyle skis out there and a lifetime of exploration.