12 MORE REASONS WHY WOMEN NEED TO GO TO THE MOUNTAINS WITH OTHER WOMEN
This article was originally published March 8th, 2018 and written by Leslie Hittmeier.
After a great deal of controversy we've pulled your responses together and given some more ladies a voice.  Photo Credit: Leslie Hittmeier
Two days ago we posted an article I wrote called 8 Reasons Women Need to go to the Mountains With Other Women.  The response was overwhelming!  Lots of people loved it, but many felt that it didn't come close to giving women the credit for being the strong and amazing people they are. Of course, it was not my intent to discourage or anger anyone, so in order to try and continue to inspire and motivate, we decided we'd go ahead and try and share those opinions and open up the floor to anyone who wanted to contribute.  We got some seriously amazing feedback that we are super excited to share.  So, without further adieu, here are eleven more kickass reasons, which vary wildly, to get outdoors with other ladies, all submitted by members of our audience:
#1: BECAUSE DOING STUFF 'LIKE A GIRL' MEANS DOING IT AWESOMELY
Society still constantly tells us that being female means being weak. Just think of common insults about doing stuff " like a girl" -- meaning you are doing something badly -- ie, "Quit throwing like a girl!" Or guys telling each other to stop being 'pussies' or or to 'grow some balls' or 'man up'.
When it's just us and our women friends on a bad-ass mountain adventure, we're constantly reminded of how strong we are as women. Physically, emotionally, intellectually. In those moments we're reminded that doing stuff, "like a girl" means doing it awesomely.
-Bron York
#2: BECAUSE IT'S #BOSS TRAINING
Outdoor adventuring teaches you awesome leadership skills. In fact men have used it since forever as means of developing physical strength and practical how-to-conquer-the-world abilities. It's called the army.
What better way for women to help each other develop awesome confidence, lateral thinking and world-conquering leadership capabilities without having to suffer rampant sexual harassment!? Want to help mentor an awesome young woman you know? -- invite her on a women-only outdoor adventure. Watch how inspired she gets being around a bunch of amazing, strong female role models. She'll come away knowing that she is capable of anything.
-Bron York
#3: TO BUILD EXCELLENT AND MEANINGFUL RELATIONSHIPS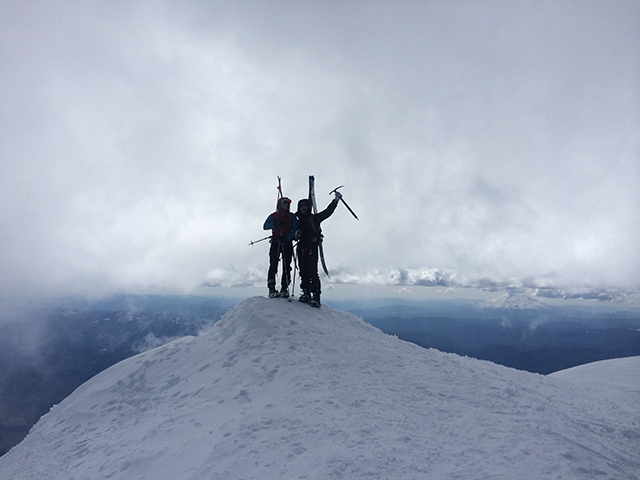 Some of the best relationships materialize from spending time with each other in the mountains.  Photo Credit: Scott Larson
Why I take to the mountains with women is that being in the outdoors is about creating community. It's a way to connect with other women, to share your passions, your challenges, your ups and downs. Everything we do on in the mountains translates to other parts of our lives, whether it's raising a family or running a company (or whatever you do). And you can't do any of that without people by your side. You build long-lasting, incredibly supportive and enriching relationships with women in the mountains. And not to say that you can't do that with men, or that it's better than spending time with me, it's just different. And different is OK and it's good to shake things up.
-Jen Gurecki, CEO, Coalition Snow
Nothing beats bonding with other women in nature. Whether it's talking over that idea for a new business you want to start, solving the world's problems, singing songs, or sharing painful or hilarious stories around a night fire -- no one 'gets it' like your women buddies. And in my experience, there isn't a faster way to bond with new girlfriends than going on an adventure together.
-Bron York
#4: BECAUSE OTHER WOMEN INSPIRE YOU.
Whether it's your first time lead climbing, skiing a big line, or even just hiking in the mountains, it's easier to get motivated when you are with others.  Photo Credit: Leslie Hittmeier
When I see other women doing awesome things, it's easier to picture myself doing it. (I think this is what the author was TRYING to get at with her reason #1, she just chose to reinforce self-limiting gender stereotypes while she was at it.)
-Kathryn Herndon
I thought the article was great but I'd just like to add to the No More Excuses part.  I would say that when I see another woman do something rad in the mountains, it's extremely INSPIRING.  I think inspiring is the key word.  I've spent my whole life admiring men's abilities and getting pushed by them and it's definitely helped me become the athlete I am today but there is something special and relatable about being with women who push you.  Especially when it's a friend and I see her do something first hand, it lights a special kind of fire under my ass that's different from being pushed by dudes.  It's just different, and it's awesome.  
-Angel Collinson, professional skier, TGR athlete
#5: BECAUSE YOU'RE LESS LIKELY TO FEEL LIKE AN OUTSIDER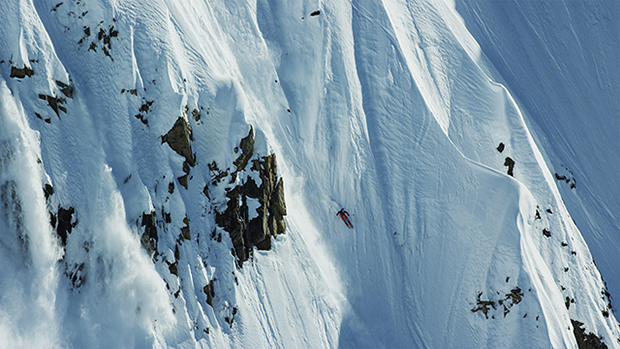 Angel Collinson shredding in Juneau, AK. 
I've spent a lot of time as "the only woman in the room" when there wasn't a room around for miles. I've gotten more confident and comfortable in that role, and there are lots of great men in the outdoor world who won't make you feel like you stick out like a sore thumb or lower their expectations for you. That said, there are also those who constantly remind you that you are not "one of the boys". Often they mean well and are practicing chivalry that's deeply ingrained in their upbringing, but it's still frustrating. With a group of women you don't usually have to put up with that bullshit.
-Kathryn Herndon
#6: BECAUSE YOU'RE LESS LIKELY TO DO SOMETHING STUPID IN AN EFFORT TO PROVE YOURSELF
I can relate to your author here--she says "I don't always try my hardest when I'm with a bunch of guys because I know I will never quite be as strong or as fast as them so I just work on pacing myself and staying safe. But when it's all girls, we can be a little more competitive and push each other to do better. " I guess I have the opposite reaction: for 3 seasons as a trail crew leader, my response to a man who didn't seem to respect me was to perform some feat of strength and try to earn that respect. I gained some muscles but I was also constantly overdoing it. A lot of this might have been in my head, some of it definitely wasn't, and some men will call you sweetie and try to take the tools out of your hands no matter what you do. It's nice to work alongside women not because we're weaker or less capable, so the bar is lower--but because I usually don't have to worry about where their bar is for me and whether I need to prove myself worthy of their respect.
-Kathryn Herndon
#7: BECAUSE WOMEN ARE STRONGER THAN WE REALIZE
In no way are we less powerful than men. We are smaller. We are built differently. But one thing I've learned—especially after childbirth—- is that power should be considered a core feminine quality. Being around other women, and going in to the mountains together, allows us to share in the joint experience of being powerful women.
-Patricia
#8: BECAUSE WE HAVE UNIQUE STRENGTHS MEN DON'T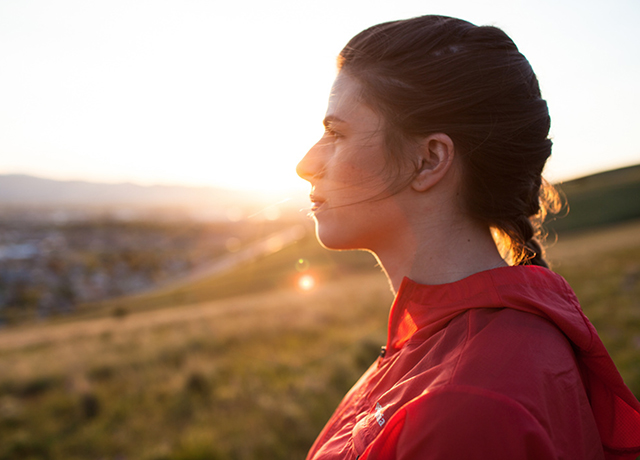 "It takes being around a group of girls for me to remember that yes, I'm a girl, and to embrace all the things that come with it rather than hide them."-Auriele Fain        Photo Credit: Leslie Hittmeier
A retired peace officer, I spent the last 30 years working with mostly men, on both side of the badge. Being badass means something more to me than just how much I can lift. The greatest advice I ever received was from an even more badass parole agent, the first female agent for the state. She said, "Don't ever forget you are a woman. You use your brains and sense of nurturing, and you will be more effective than any agent out there." I never forgot these words.
When I was younger, I battled with the notion that I had to compete against men. When I discovered that I could fulfill any of the required policy and procedures as well as any man, I stopped worrying about it. I met all standards. But when I discovered that I was more effective than them because I had a whole set of tools that they had but wouldn't use, for fear of losing their "macho," I became their leader.
I backpack with all women. We have the best time ever. I hike with men, and it's a means to an end. I appreciate this article because it voices what we already know. I'm not in competition with men. I am happy to be me and to be patient with those that are doing their best, even if it means helping us up when we fall, or listening to our silly stories of love and life. Kudos to the author for being happy with herself. Well done.
-Hiker Chica
Feminism doesn't necessarily mean making sure women are, and portrayed as, equals in every facet of human existence. We are different than men, and that is ok! What women truly need is to embrace our unique traits as a gender and not always feel the necessity to hide them. It takes being around a group of girls for me to remember that yes, I'm a girl, and to embrace all the things that come with it rather than hide them. I felt this is what Leslie's piece was getting at and why I embraced it so much. Female traits and qualities CAN fit into male dominated spheres.
-Auriele Fain, 1LT and pilot for the United States Air Force
#9: BECAUSE WOMEN SHARE YOUR PEE CHALLENGES
Let's be real here, peeing -- especially on bare rock, or in the cold-ass snow -- is less convenient for us than it is for guys (unless you have one of these bad boys). You have to think about things like terrain absorbency, slope, velocity and splash-back. Trust me, it's an artform cultivated over years of experience, involving an indepth knowledge of physics. Whether you're training for a marathon, camping in the wild, or doing a multi-pitch climb, it helps to have friends that you can discuss technique with. Amirite, ladies?
-Bron York
#10: BECAUSE YOU HAVE A DIFFERENT EXPERIENCE DEPENDING ON WHO YOUR PARTNERS ARE
I have climbed with all men, a blend of men and women, and just women. One thing I have learned is I am different depending on whom I climb/hike/ski with. There is a pressure to achieve more, push harder, and climb faster when I am the only woman. I enjoy my women outings so much more, as that pressure dissipates. Women and men climb differently, and from my experience, for different reasons. Men (again, my experience) seem to confront the mountain, attack it, assail it and push for the summit. Women seem more peaceful about the process, less willing to take risks. They seem more willing to second guess a route or wait for weather to change. Of course, some women want the summit at all costs, but not as frequently as men do. I also find women help other women more than on a blended climb/camp out. Yes, I like having the strength men bring to it all, but I enjoy the peace I feel with just my sistas even more.
-Kellie Kenny O'Brien
#11: BECAUSE EVERYONE SHOULD GO INTO THE MOUNTAINS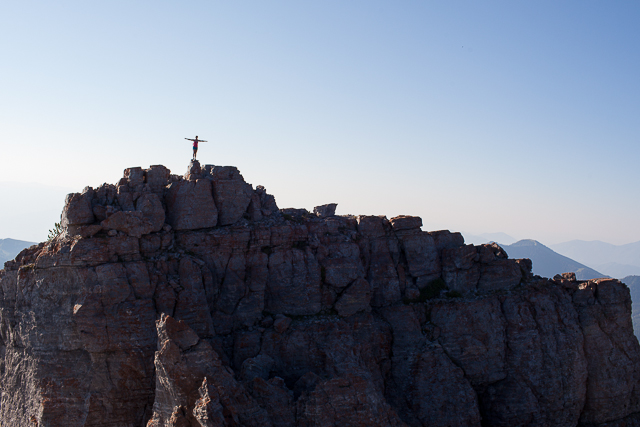 The key is just to get out, explore, and have fun with people who inspire you.  Photo Credit: Leslie Hittmeier 
Why should women get into the mountains?
Because Nature is beautiful.
Because Nature is challenging.
Because Nature is always changing.
Because we CAN.
These are reasons that EVERYONE should go to the mountains.
-Chris Deloux
#12: BECAUSE WE CAN LAY THE GROUNDWORK FOR FUTURE GENERATIONS
Right now we live in a world where mountain activities are dominated by men. If you need proof of this, just watch a ski movie or open a mountain bike magazine and you'll notice the lack of featured women and female role models. I hope that by pursuing fun and challenging mountain activities with other women, and encouraging each other to climb higher, we can be role models. I believe we can help foster a future in which our daughters don't feel like outsiders in the mountains, and in which we all (men included) inspire each other to succeed in our chosen pursuits, be it mountain biking, climbing, skiing, hiking, or the endless passions that drive us.
-Ashley Ojala